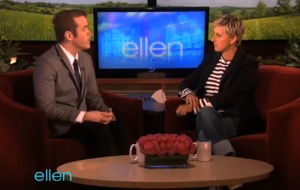 Perez Hilton appeared on Ellen today and announced to host Ellen DeGeneres that he's dramatically changing the tone of his popular celebrity gossip site, PerezHilton.com to no longer be mean or be a bully. This appears to be in reaction to a spate of tragic stories in the news of late in which victims of gay bullying ended their lives.
Perez told Ellen:
Over the last week and a half two weeks I've been doing everything I can to bring awareness to the issue of teen suicides and gay bullying. And in doing so, a lot of people have called me a hypocrite, and a bully myself and a big one. And that's not how I want to be perceived and that's not what I want to put out there to the world. And it was a big wake up call that so many people saw me that way.

So from now on I really want to be part of the solution and not part of the problem and I want to be the change that I want to see in others, so I'm going to do things differently on my website, than I have in the past. I'm not going to call people nasty nicknames, I'm not going to go the mean route. I'm going to force myself to be funnier or smarter or just do things differently. Not doodle inappropriate things and not out people.
For her part, Ellen appeared to accept Perez's pledge unconditionally, but not without browbeating him a bit, which you can watch in the following segment.
Have a tip we should know? tips@mediaite.com
Colby Hall - Founding Editor