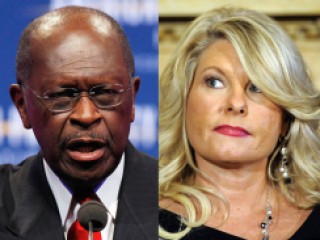 During yesterday's press conference, Herman Cain was very clear in his denial of any inappropriate behavior that has led to the litany of sexual harassment charges dogging his campaign of late. Cain could not have been clearer in claiming that he was completely innocent of these charges, saying of recent accuser Sharon Bialek, "I don't even know who this lady is." But a Chicago Sun-Times report claims a witness saw Cain and Bialek in a friendly embrace back stage at a Tea Party Conference just over a month ago.
During Cain's aggressive rebuttal at yesterday's rather strange press conference, the GOP presidential poll leader made it abundantly clear that he had never acted inappropriately, even agreeing to submit to a lie detector test to prove his innocence, given the proper conditions. His most striking claim, however, was that had no idea who Bialek was, after watching her Gloria Allred press conference from earlier in the week.
The moment that Cain made that claim, one could almost feel a nation of skeptics suddenly looking for photographic evidence of these two individuals together.
Reporting for the Sun-Times, Michael Sneed reports on the recollection of local radio co-host Amy Jacobson, who claims to have seen Cain and Bialek back stage at a Chicago hotel:
The Sneed source … is WIND radio co-host Amy Jacobson, who tells Sneed she witnessed the Cain/Bialek encounter a month ago while backstage at the AM 560 WIND sponsored TeaCon meeting in Schaumburg Sept. 30-Oct. 1 at the Renaissance Hotel and Convention Center.

?Quoth Jacobson: "I had turned on TV to find out who was Cain's accuser, and I almost fell over when I saw it was Sharon Bialek accusing Cain of groping her genitals."

"I was waiting for Herman Cain's 'Accuser No. 4' to surface — and up pops Sharon!"

"I couldn't believe it. I was shocked."

"I recall Sharon was hell bent on going backstage at the TeaCon convention — where she cornered him," said Jacobson.
There are many ways in which a cynical person can dismiss this report, not least of which is that even if Cain and Bialek shared a friendly encounter as Jacobson alleges, this in no way means that the GOP frontrunner would know or recognize his accuser a month later. Herman Cain is participating in a very busing schedule and likely comes in contact with hundreds and thousands of fans and supporters in the course of a day's worth of campaigning.
Further, Amy Jacobson is an aspiring broadcast personality who will get loads of attention/promotion from inserting herself into this story. That is not to say that she is being duplicitous, but cynics will likely use that, perhaps unfairly, as circumstantial evidence that Cain is the real victim here. Glenn Beck interviewed Jacobson yesterday, a video of which you can see below. According to TheBlaze writer Jonathan Seidl the encounter between the two was intense:
Jacobson said Bialek "bum rushed" her to get to Cain while backstage at the event. That led to what she described as an intense encounter that you could "cut with a knife." She said Bialek had Cain's ear for two to three minutes, and after it was over, Bialek "stormed" off. That has led Jacobsen to conclude that Bialek was, in fact, confronting Cain about the alleged encounter.
Watch the interview between Beck and Jacobson below:
(H/T Business Insider)
Have a tip we should know? tips@mediaite.com