Report: If Elected, Trump Would Nominate Peter Thiel to the Supreme Court. Yes, Really (UPDATED)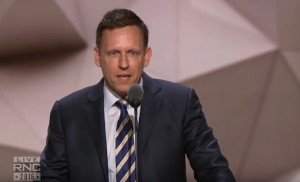 Never one to put the cart before the proverbial horse, Republican party nominee Donald Trump has reportedly already been floating Supreme Court seats.
And the person in line to get one? Peter Thiel, the eccentric billionaire who co-founded PayPal, was outed as gay by Gawker, then secretly financed Hulk Hogan's defamation against Gawker.
Yeah, that guy.
At least, that's according to the Huffington Post, which today is citing sources close to the entrepreneur claiming that Trump "deeply loves Peter Thiel," and that the possibility of receiving a Supreme Court nomination as been discussed. In fact, Trump has, "made it clear he will nominate," Thiel.
From HuffPo:
"It's not clear whether Trump has indeed offered to nominate Thiel ― only that Thiel has said Trump would nominate him and that Trump's team has discussed Thiel as a possible nominee. Both sources requested anonymity, given that Trump and Thiel have each demonstrated a willingness to seek revenge against parties they feel have wronged them."
Thiel is a graduate of Stanford Law School and worked at the New York law firm Sullivan & Cromwell.
Hope Hicks from the Trump campaign told the Huffington Post however, "There is absolutely no truth to this whatsoever."
Thiel would be the first openly gay member of the United States Supreme Court if nominated and sworn in. Trump has long called to replace the late Antonin Scalia with a justice with a strong history of proven conservatism, and in May of this year his campaign released a list of eleven potential nominees. Thiel was not included on the list at the time, which Trump later clarified was more of a "guide" than a steady list of contenders.
HuffPo points out:
"Thiel is deeply conservative, however, and his more fanciful ideas can sometimes obscure his support for broadly mainline Republican policies and candidates. Thiel has given millions of dollars in total to candidates like Ron Paul, Ted Cruz and Carly Fiorina. Like Trump, Thiel's core political belief appears to be that his financial success validates his ideas."
This summer at the Republican National Convention in Cleveland, Thiel told the crowd, "I am proud to be gay. I am proud to be a Republican. But most of all, I am proud to be an American."
UPDATE – 12:05 p.m. ET: CNN Money received a statement from Thiel spokesman Jeremiah Hall, who denied the report.
"Huffington Post's sources are lying," Hall said. "The truth is Peter hasn't had any conversations about a Supreme Court nomination and has no interest in the job."
Watch Thiel's above RNC speech via YouTube.
—
[image via screengrab]
Have a tip we should know? tips@mediaite.com