Report: Josh Duggar May Return to TV, Blames 'External Forces' for His Acts of Sex Abuse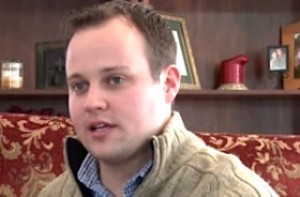 Josh Duggar may be returning to reality TV, following a stint in a faith-based rehabilitation center for his admitted adultery and serial molestation of young girls.
The insider source who revealed this to In Touch cautions that viewers should not expect an apology, though. "Josh will cover everything and he will maintain the family line that god has saved his soul and guided him back to the right path. But one thing you probably won't hear is that he's actually sorry, as he believes that external forces were to blame for his behavior," the source said.
Duggar is the onetime star of the TLC cash cow 19 Kids and Counting. The network cancelled the program (its top-rated) one year ago, costing the network's parent company a reported $19 million, after reports that Duggar had serially abused young girls, including his sisters, through his teens. In Touch broke the story in May 2015, after going over redacted police reports from 2006. The Ashley Madison hack subsequently exposed his adultery as well. The revelations were at odds with the squeaky-clean, conservative Christian presentation of the family on the show.
Duggar was also forced to resign from his role as executive director for the lobbying arm of the conservative Family Research Council (FRC), which advocates against marriage equality and women's reproductive rights. It was in that role that Duggar claimed that same-sex marriage was an existential threat to the American family, and that homosexuality was linked to pedophilia. FRC president (and current GOP delegate) Tony Perkins and former Republican presidential contender Mike Huckabee have publicly stood by Duggar.
"Josh will appear on the next season of his sisters' series," the source told InTouch. "The plan is for him to address everything he's done. What he has to say will be ratings gold, and TLC — and the Duggars — know it."
Have a tip we should know? tips@mediaite.com