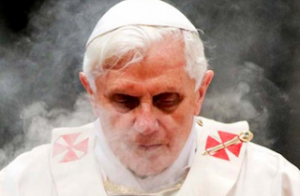 Italian daily newspaper La Repubblica has published a report linking Pope Benedict XVI's recent resignation to a secret network of gay clergy in the Vatican who may have been blackmailed by outsiders.
The Guardian reported on a potentially damaging dossier of files on the matter, being dubbed "Vatileaks," which were allegedly delivered to the Pope around the same time he resigned. Writer John Hooper summarized the Italian's article's findings as follows:
According to La Repubblica, the dossier comprising "two volumes of almost 300 pages – bound in red" had been consigned to a safe in the papal apartments and would be delivered to the pope's successor upon his election.

The newspaper said the cardinals described a number of factions, including one whose members were "united by sexual orientation".

In an apparent quotation from the report, La Repubblica said some Vatican officials had been subject to "external influence" from laymen with whom they had links of a "worldly nature". The paper said this was a clear reference to blackmail.

It quoted a source "very close to those who wrote [the cardinal's report]" as saying: "Everything revolves around the non-observance of the sixth and seventh commandments."

The seventh enjoins against theft. The sixth forbids adultery, but is linked in Catholic doctrine to the proscribing of homosexual acts.
In an official Vatican statement, Father Federico Lombardi said, "Neither the cardinals' commission nor I will make comments to confirm or deny the things that are said about this matter. Let each one assume his or her own responsibilities. We shall not be following up on the observations that are made about this."
CNN's Fredricka Whitfield covered the story Saturday, inviting Senior International Correspondent Ben Wedeman to share details of the report with the American audience.
Wedeman reported that the Vatican is now accusing the Italian media of trying to influence the conclave of Cardinals who are meeting in Vatican City to select the next Pope. He added that the Vatican has no choice but to take the accusations "seriously" given the level of media attention it has received in Italy and elsewhere.
Watch video below, via CNN:
—
>> Follow Matt Wilstein (@TheMattWilstein) on Twitter
Have a tip we should know? tips@mediaite.com