'It's Not Honorable. It's Absurd' Levin Slams Krauthammer For Backing Obamacare's Medicaid Expansions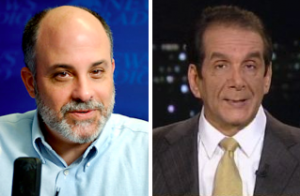 Right-wing radio host Mark Levin took Fox News' Charles Krauthammer to task this week for conceding the fight on Medicaid expansion to President Obama.
Krauthammer appeared on Bret Baier's show Thursday to discuss the recent trend of Republican governors, including Florida's Rick Scott, finally acquiescing on the Medicaid expansion provision of the Affordable Care Act.
Speaking for those GOP governors, Krauthammer said, "You can oppose it and have opposed it all the way and then say, 'Well, you lost the fight. It's the law of the land. It passed in Congress.'" He added, "I think it's honorable to say, 'I will take money, because what the people of my state are paying in federal taxes are subsidizing people in other states.'"
Levin tore into Krauthammer on his show, arguing that conservatives may have "lost the fight" on Obamacare, but they did not lose the fight on the Medicaid state exchanges. "We won that part of the fight. It gives states a decision whether to participate or not. So we didn't lose that part of the fight. We won that part of the fight."
Singling out Governor Scott, Levin continued, "You're still in charge of a state. You're not required to say, 'I'm going to institute it anyway because Obama won. I don't get that logic at all, particularly if you're in a red state. 'Well, Obama won Florida.' Oh great, so what?"
Turning his attention back to Krauthammer, he warned his listeners against trusting every "conservative" voice they hear on TV. "It's not honorable. It's absurd," Levin said of the decision to expand Medicaid as the Affordable Care Act outlines. "And I don't believe Republican commentators, wherever they are, should be giving cover to absurd decisions by governors just because they're Republicans. And I want to salute those Republican governors who are still fighting hard and holding firm."
Listen to the audio below:
—
>> Follow Matt Wilstein (@TheMattWilstein) on Twitter
Have a tip we should know? tips@mediaite.com