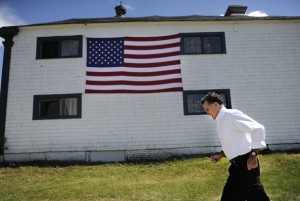 Is Mitt Romney running out the clock on the Republican nomination? According to Washington Post reporter Philip Rucker, Republican frontrunner has stopped taking questions from voters on the campaign trail. In fact, he hasn't answered a question from a voter in three weeks.
RELATED: Mitt Romney Gets Glitter Bombed In Minnesota
According to Rucker's reporting:
The last time Romney took audience questions, Jan. 13 in Hilton Head, S.C., he got two off-the-wall ones. A girl doing a science project on germs wanted to know how many hands he shakes and how often he washes his hands. (He said he washes regularly and uses Purell sanitizer, too, "just to make sure.") And an older woman asked whether he believes in "the divine saving grace of Jesus Christ." (He said he did.)
Romney has eschewed town hall meetings with unpredictable questions for 15-minute stump speeches. Only time will tell if this strategy will pay off for the former Massachusetts governor.
So if Romney hasn't been holding voter meet-and-greets, what has he been doing with all his time over the last 24 days?
Here's a look at his public calendar of events:
Sat Jan 14
Mitt Romney Attends Huckabee Forum

Sun Jan 15
State Rep. Bryan Nelson and Commissioner Art Otero Rally Supporters Of Mitt Romney At A Pizza Party

Mon Jan 16
Mitt Romney Attends South Carolina Faith and Freedom Coalition Presidential Kick-Off
Fox News South Carolina Debate

Tues Jan 17
Mitt Romney Holds a Grassroots Rally and Discusses Jobs and the Economy with Supporters (Stump speech)

Massive New York Fundraiser

Wed Jan 18
Mitt Romney Holds a Grassroots Rally and Discusses Jobs and the Economy with Supporters
(3 stump speeches)

Thurs Jan 19
Mitt Romney Visits Romney for President South Carolina Headquarters

Southern Republican Leadership Conference CNN Debate

Fri Jan 20
Mitt Romney Holds a Grassroots Rally and Discusses Jobs and the Economy with Supporters

Sat Jan 21
Mitt Romney Visits Romney for President Greenville Headquarters

Primary Night Event (South Carolina)

Sun Jan 22
Mitt Romney Holds a Grassroots Rally and Discusses Jobs and the Economy with Supporters in Florida (Stump speech)

Mon Jan 23
Mitt Romney Holds a Roundtable on Housing Issues (Florida)

St. Petersburg Times/NBC Debate (Florida)

Tues Jan 24
Mitt Romney Delivers Prebuttal to President Obama's State of the Union

Mitt Romney Holds a Florida Housing Event

Wed Jan 25
Mitt Romney Delivers Rebuttal to President Obama's State of the Union

The Univision "Meet The Candidates" Forum (Florida)

US-Cuba Democracy PAC Event (Florida)

Pres. Tele-Townhall w/ Mitt Romney (Florida)

Thurs Jan 26
Mitt Romney Delivers Remarks At Jacksonville Small Business (Florida)

John McCain Holds A Town Hall Meeting (Florida)

John McCain Holds A Town Hall Meeting (2nd event) (Florida)

CNN-Hispanic Leadership Network Debate (Florida)

Fri Jan 27
John McCain Holds A Town Hall Meeting (Florida)

Mitt Romney Keynotes The Hispanic Leadership Network's Lunch (Florida)

Mitt Romney Discusses Innovation On Space Coast (Florida)

Mitt Romney Holds a Grassroots Rally (Florida)

Sat Jan 28
Mitt Romney Holds a Veterans Rally (Florida)

Mitt Romney Holds a Grassroots Rally (Florida)

Sun Jan 29
Mitt Romney Holds a Rally with Supporters 11:45 (Florida)

Mitt Romney Meets with Voters 3:45pm (Florida)

Mitt Romney Holds a Rally with Supporters (Florida)

Mon Jan 30

Mitt Romney Holds a Grassroots Rally with Supporters 8am (Florida)

Mitt Romney Holds a Grassroots Rally with Supporters 2:15pm (Florida)

Mitt Romney Holds a Grassroots Rally with Supporters 6pm (The Villages, FL)

Tues Jan 31
Mitt Romney Holds an Event in Tampa

Romney for President Primary Night Event

Wed Feb 1
Mitt Romney Holds a Grassroots Rally with Supporters (Minnesota)

Mitt Romney Holds a Grassroots Rally with Supporters (Minnesota)

Thurs Feb 2
Donald Trump Endorses Gov. Romney

Reno, Nevada Rally

Fri Feb 3
Mitt Romney Holds a Business Roundtable and Addresses Employees (Nevada)

Rally with Mitt in Elko, NV

Mitt Romney Holds a Get Out the Vote Event with Supporters (Nevada)

Sat Feb 4
Grassroots Rally 2:45pm

Romney Nevada Primary Night 2012

Sun Feb 5
Super Bowl Sunday (Holiday)

Mon Feb 6
Mitt Romney Holds a Grassroots Rally with Supporters (Colorado)
Have a tip we should know? [email protected]