Report: MSNBC Pres. Phil Griffin Told Keith Olbermann's Manager "We Are At War"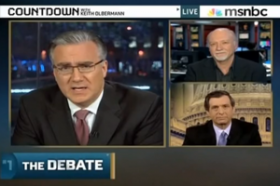 The Daily Beast's Howard Kurtz, who appeared on Countdown during return-from-suspension show #2, has a juicy tick-tock on the inner battle at MSNBC between Keith Olbermann and Phil Griffin (and…basically everyone else at 30 Rock).
Actually, not so much a battle. Apparently it's "war."
Kurtz said Olbermann was weighing is options the Sunday before he returned, deciding whether to take his story to Good Morning America, Larry King and David Letterman. When Griffin was told of this possibility, he reportedly said, "If you go on GMA, I will fire Keith."
Then, when the news was made public that Olbermann would be allowed back on MSNBC Tuesday (a day later than he wanted), Olbermann's manager called Griffin and asked why the statement wasn't told directly to the MSNBC host first. "We are at war," said Griffin.
While none of the major players would be interviewed for Kurtz' article, one MSNBCer called Olbermann's response in the wake of the political donations as a "totally narcissistic response." But since the "war" has subsided, there have been "attempts to lower the temperature," which include the network going back on their call to actually make it a "suspension without pay": Olbermann was paid for the days he was off the air.
Kurtz looks to the future:
On one point, all sides seem to agree: With the notable exception of Maddow, his onetime protégée, Olbermann has no major allies left at 30 Rock. And that, given his history of crusading against authority, may be how he likes it.
With just Rachel Maddow in his corner, and a promised Special Comment tonight going after Ted Koppel for his Keith comments, the battle may be over but the war is just heating up.
Check out the full column.
—–
» Follow Steve Krakauer on Twitter
Have a tip we should know? tips@mediaite.com