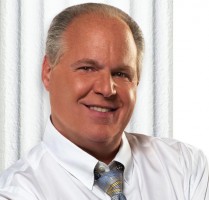 Conservative talk show host Rush Limbaugh has been rushed to a Queen's Medical Center in Honolulu, and is reportedly in serious condition, according to local reports. Limbaugh has had a rather dramatic fluctuation of weight gain/loss, most recently shedding 90 pounds from Spring to late Summer of 2009. ABC News is now reporting that Limbaugh is "resting comfortably." Coincidentally, the Hospital where Limbaugh is resting is the same where Barack Obama was born.
KITV in Honolulu initially reported:
Paramedics responded to the call at 2:41 p.m. at the Kahala Hotel and Resort. Limbaugh suffered from chest pains, sources said. Paramedics treated him and took him to Queen's Medical Center in serious condition.

He was seen golfing at Waialae Country Club earlier this week. The country club is next to the Kahala Hotel and Resort.

The radio show host had been in the islands during the holidays.
ABC News just updated the situation:
Popular talk-radio host Rush Limbaugh is recovering in a Honolulu hospital today, hours after being admitted for chest pains he suffered while on vacation. "Rush was admitted to and is resting comfortably in a Honolulu hospital today, after suffering chest pains," according to a statement from "The Rush Limbaugh Program."

"Rush appreciates your prayers and well wishes, and he will keep you updated via RushLimbaugh.com."

Limbaugh had been scheduled to return to his talk show Jan. 4 but a spokesman told ABC News that it is unclear whether he will be back by then.
As the story broke late last night Eastern time, CNN's Ed Henry filed the following report:
Have a tip we should know? tips@mediaite.com