Report: This Year, Kids' Letters to Santa Include Pleas For Their Parents To Not Be Deported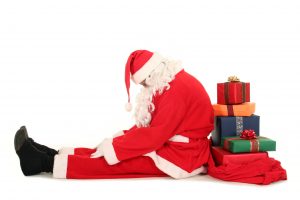 A new report from Voices of New York is putting a damper on some holiday spirits, but it's also pretty inspiring.
According to Edin Martínez, the main post office in New York has been hard at work on "Operation Santa," which involves opening and reading the innumerable letters to Kris Kringle penned by kids around the city.
Reportedly, they say things like what 9-year-old Jonathan wrote here:
Dear Santa; although I have been a bit naughty to my parents this year, I have worked hard at school so I can be somebody one day. I am sad because, as you know, the new president has said that he will kick all immigrants out of this country, and I am an immigrant because my parents are Ecuadorian. Even though I was born here, I feel sad because if my parents leave I will stay in this country alone. Santa, I hope you will bring me something this time, because last year I got nothing.
They could also say something similar to this:
Santa I love you so much and I hope you can give papers to all of us so we don't get kicked out. I've been a good girl and have helped my little sister, and I want you to bring us a pink coat for the cold and gloves for my mom so her little fingers don't freeze.
Though the kids are afraid of President-elect Donald Trump, who has spoken of a "deportation force" before, there is a happy twist to the story. Perhaps the best part of Operation Santa, according to Post Office spokesperson Xavier Hernández, is the option that individuals and communities have to adopt a letter and donate the gift referenced within it from "Santa."
Sure, no one will be able to send documentation for an immigrant family, but they could still help brighten a child's holiday, which is why Hernández hopes more people will participate in the project.
[image: pikselstock]
Have a tip we should know? tips@mediaite.com