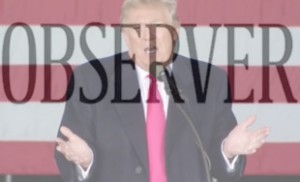 Following a fawning editorial endorsing Donald Trump in the New York Observer, which is owned by Trump's son-in-law, the paper's national political reporter, Ross Barkan announced he was leaving.
"I knew going into this there would be complications with covering Donald Trump and working for the New York Observer," Barkan told CNNMoney. "I did not imagine that the events would transpire the way they did."
Personal news: I'm announcing today that my last day at the New York Observer will be April 27th.

— Ross Barkan (@RossBarkan) April 13, 2016
CNNMoney reports:
Barkan, 26, made it clear that he had been wrestling with a potential job change for weeks. He said he did not want to "denigrate" the Observer, where he has worked for the last three years, and that he maintains "a lot of respect" for Kurson.

But the tension over the paper's Trump coverage "has not helped," Barkan said. He informed Kurson of his decision in a "polite email" on Tuesday night.
The Observer wrote in its editorial published Tuesday:
Donald Trump is the father-in-law of the Observer's publisher. That is not a reason to endorse him. Giving millions of disillusioned Americans a renewed sense of purpose and opportunity is.
Jared Kushner, who is married to Trump's daughter Ivanka Trump, purchased the Observer in 2006.
RELATED: ​NY Observer 'Endorsement' of Trump Far Worse Than Just Absurd Conflict of Interest
In an appearance on CNN Wednesday morning, the paper's editor, Ken Kurson, dismissed the family connection, saying: "This was a pretty clear choice for us."
The New York Times reported last week that Trump had received assistance from Kushner, who sits on the editorial board in addition to being the paper's Publisher, and Kerson in crafting his AIPAC speech.
[h/t CNNMoney]
Have a tip we should know? tips@mediaite.com