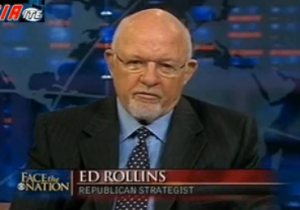 It's been a rough year for Michael Steele. In the past few months alone, the RNC chairman has taken on quite a bit of heat over everything from sojourns to bondage clubs to blaming President Obama for a war that started just about seven years before he entered office. Still though, little of this criticism has been as harsh and, more importantly, dismissive as the tongue lashing he received from chairman of the Republican National Committee, Ed Rollins on Face the Nation this weekend. Something tells me that Steele would rather have a dozen clips of Jon Stewart's wacky puppet than one more of these.
It started when host Bob Schieffer pointed out that Steele has basically been in "bunker mode" and out of the public eye recently. He then asked Rollins if the Republican party needed to do something about Steele. This is how Rollins responded:
"Well, there's no time. Obviously he's been a disaster. You have three men on this show — not me, but the other three — who have all been party chairmen and very distinguished party chairmen. Michael Steele has failed miserably in the things you're supposed to do — raise money and basically go out and articulate the message. It's not going to matter though. In 11 weeks from now, what he says and does in the next 11 weeks is not going to matter."
As painful as all that disaster talk is, the way Rollins makes it clear that he really doesn't care about Steele at this point may be worse. Sure, he's just trying to move away from a touchy subject for his party, but it's one thing to say someone's doing a bad job and another to flat out say they don't matter. All in all, not a moment that Steele's going to want to save on his DVR.
Have a tip we should know? tips@mediaite.com