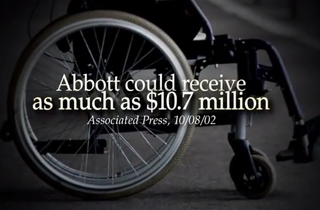 Wendy Davis, the Democrat running for governor in Texas, today ran an ad against her Republican opponent that hinges on the fact that he's in a wheelchair.
Greg Abbott has been paralyzed from the waist down ever since a tree fell on him in 1984, and the ad mentions that at the beginning of the 30-second spot. It then goes on to mention how he successfully won millions in a lawsuit against the homeowner — but then, in his career as a lawyer, went on to protect companies from people filing wrongful injury claims against them. In one case, he successfully defended a company from a lawsuit filed by a woman, who argued that they failed to perform a background check on an employee with a history of sexual assault and who later raped her.
"Greg Abbott: He's not for you," a narrator intones, followed by an advisory that Davis approved of the ad.
Republicans were quick to condemn the ad for using Abbott's disability as a talking point to bash his career as a lawyer. "It is challenging to find language strong enough to condemn Sen. Davis' disgusting television ad, which represents a historic low for someone seeking to represent Texans," said Abbott spokeswoman Amelia Chase.
Davis's campaign soon issued the following statement to the Huffington Post:
"What this ad shows is that after rightly seeking justice for himself, Greg Abbott turned around and spent his entire career denying that same kind of justice to other victims," Davis communications director Zac Petkanas told The Huffington Post. "Whether they were victims of brutal rape, whether they were disabled individuals, or whether they were patients who were maimed by a surgeon who was under the influence. These are important questions that Texans have a right to know about."
Davis trails Abbot in most polls.
Watch below:

[Image via screenshot]
—
>> Follow Tina Nguyen (@Tina_Nguyen) on Twitter
Have a tip we should know? tips@mediaite.com