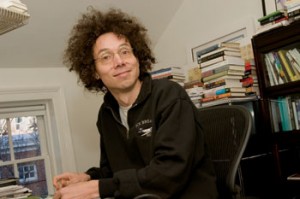 In a new piece for The Daily Beast, writer Sean Macaulay celebrates the sexual conquests of New Yorker writer Malcolm Gladwell, lavishly praising the best-selling author and nerd extraordinaire for morphing from a stifled goober to a big city casanova. "The Love Guru" recounts the blossoming of Gladwell through a series of vague anecdotes and anonymous quotes, like the one about Malcolm and his hot date from late last year: "It was…like the high-school geek landing the prom queen—so wrong, yet so right." But if that's not salacious enough, there's always this:
They drank some wine. They talked some more. He fluttered his long, slender fingers. He seemed so comfortable in his own skin, so authentic. He had this eerie feline self-assurance, and it was hypnotic. Forty minutes later, they were back at his place.
The whole thing is totally creepy in its blatant worship of a once-meek man, as Macaulay goes on to call Gladwell a "classic loner" turned "master boulevardier," both "intriguing and exotic" and a "literary rockstar," with a certain power over everyone: "They call it having 'Malcolm powder' sprinkled in your eyes." Hm.
But by the time the article's author reaches out to Gladwell for a comment — "I don't think I want to participate in this at all," said Gladwell — you realize that Macaulay, too, has realized the sheer ridiculousness of the article's premise and is in on the joke. And the way he slyly mimics Gladwell's writing style, going so far as to get an "expert" quote, is actually pretty great.
But it's tough to convey subtle humor online and the site's commenters were not having it: "The Daily Beast is going to have to decide whether it wants to be a dispenser of intellectual/quasi-intellectual fare or TMZ!" read one response. And Salon's women blog Broadsheet took offense as well. "Nerds can totally get hot chicks if they bring something to the table…rather than seeing them as an alien race to be conquered with magic seduction techniques," wrote Kate Harding. Sure, the piece is creepy, but it seems to be comedy posing as journalism, far from serious, and not the other way around.
Have a tip we should know? tips@mediaite.com