Richard Sherman's Benign Rant Shows Why a Young Muhammad Ali Would Never Survive in 2014
Concha: Richard Sherman's Benign Rant Shows Why a Young Muhammad Ali Would Never Survive in 2014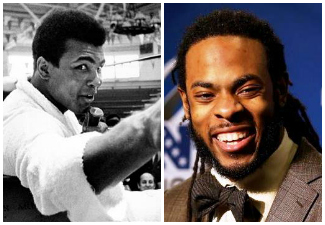 In the biggest game in American sports featuring the NFL's most respected and marketable player—a quarterback named Peyton — a cornerback playing for the underdog, Richard Sherman, has become the face of Super Bowl XLVII.
This is all thanks to the rant heard 'round the world after Seattle held off a late drive by the 49ers last Sunday, which included Sherman somehow tipping a ball in the end zone to a teammate for an interception to end the game. As is customary, a sideline reporter—in this case, Fox's Erin Andrews—snagged a player right after the game for a quick postgame interview. But she didn't go after the usual candidates for Q&A (the winning quarterback or head coach), but the aforementioned Sherman—known well before Sunday's game as the league's premier trash talker…and therefore someone most likely to say something memorable, which he absolutely did. All told, 55 million people heard it (for context, a mere 40 million watch the Oscars), and it's been replayed millions of times on social media, YouTube, ESPN and cable news since.
As you've likely seen, Sherman did not disappoint, going after 49ers receiver Michael Crabtree in an arrogant, selfish (yet insanely entertaining, passionate and genuine) tirade that instantly overloaded Twitter and social media everywhere (leading to the usual racist comments from every idiot with an Internet connection). In Sherman's defense, for those who have played football (my career ended in High School if not counting Hoboken's co-ed intramural league) it is an emotional game. That said, it's easy to sit on a couch and say Sherman should have been more composed, more classy like a Manning (either one) or Larry Fitzgerald would be in a similar situation.
But that's been Sherman's personality going back to his days at Stanford. The guy is candid and plays with a hunger and desire few can match. With respect to Darrelle Revis, he's now the best at his position. And given the lucrative options being a "loudmouth"—as John McCain jokingly described Sherman in a radio interview this week—provides off the field, as illustrated by smack-talkers from Terrell Owens to Chad Johnson-Ochocinco-Johnson to Deion Sanders—Sherman being the media's #1 choice for an interview will only lead to more endorsement contracts, reality shows and/or color commentary gigs during and after his playing career. Just ask Ray Lewis…
The public reaction to Sherman instantly reminded me of Muhammad Ali's (then Cassius Clay's) post-fight interview after beating a heavily-favored Sonny Liston for the heavyweight title 52 (yup, 52) years ago:
"I knew I had him in the first round. Almighty God was with me. I want everyone to bear witness, I am the greatest! I'm the greatest thing that ever lived. I don't have a mark on my face, and I upset Sonny Liston, and I just turned twenty-two years old. I must be the greatest. I showed the world. I talk to God everyday. I know the real God. I shook up the world, I'm the king of the world. You must listen to me. I am the greatest! I can't be beat!"
I wasn't around for this moment, nor were many of you reading this, but let's all try to imagine what the reaction would have been if Ali made that kind declaration to the world…in 2014.
Actually…that was quite an easy mental exercise.
Ali would have been called a thug, a punk, a cocky SOB who deserves to get his block knocked off. In other words, he would have been treated like Sherman.
The Can You Imagine exercise gets better when incorporating some of Ali's pre-fight quotes when it came to Joe Frazier:
"He's the other type Negro, he's not like me. There are two types of slaves, Joe Frazier's worse than you to me … That's what I mean when I say Uncle Tom, I mean he's a brother, one day he might be like me, but for now he works for the enemy"
"It will be a thrilla when I get the gorilla in Manila."
And:
"Joe Frazier should give his face to the Wildlife Fund. He's so ugly, blind men go the other way. Ugly! Ugly! Ugly! He not only looks bad, you can smell him in another country! What will the people of Manila think? That black brothers are animals. Ignorant. Stupid. Ugly and smelly."
Again, think of Ali uttering any of those words in public in the age of cable news…in the age of Twitter. You think the Christie story is being beaten to death? Obamacare? Benghazi? Bieber? Cable news particularly would have its "IT" story until the 2014 midterms if a quote machine like Ali was active today.
In this respect, Sherman–who never said anything remotely considered racist–couldn't hold a candle to The Louisville Lip if controversy and provocation is the objective.
Every big game needs a hero and a foil.
Richard Sherman—love him or loathe him—is now your official bad-guy to Peyton Manning, the Prince of All Media.
But regardless of who you think will win or lose, one thing is for certain:
A young Muhammad Ali would have never survived in today's cable news or social media climate.
— —
>> Follow Joe Concha on Twitter @ConchaMedia
Have a tip we should know? tips@mediaite.com