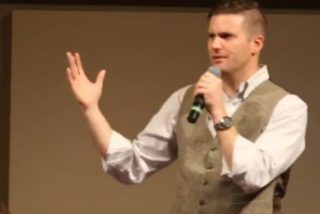 Richard Spencer, the prominent "alt-right" figure who coined the term "alt-right" itself, is having a busy week. On Friday, after Donald Trump's inauguration, Spencer got punched in the face by a masked assailant, spawning numerous memes and widespread discussion about whether or not it was acceptable to punch Nazis or endorse those who do. Meanwhile, he's moved to Alexandria, Virginia, a Washington, DC suburb, telling The Atlantic that he intends for the home to be a "hub" for the movement. On Tuesday, BuzzFeed reported that his neighbors not exactly enthused with this news, with the city getting "at least 25 complaints" about Spencer moving in.
In addition, flyer being circulated in Alexandria reads as follows (grammatical and punctuation errors taken verbatim from the original):
ATTENTION OLD TOWN COMMUNITY MEMBERS:

RICHARD SPENCER, LEADER OF THE 'ALT-RIGHT' WHITE NATIONALIST MOVEMENT has recently rented a residential space on [address redacted]. The SPLC has identified Spencer as an extremist and his organization, the National Policy Institute, as a hate group. He has made public his intention to use the residential space as a new "HUB" for the 'Alt-Right'.

If you take issue with this, please voice your concern with the City Manager's office as soon as possible (703-746-4500).

If you'd like to join the fight against hate in our shared community, email us at: ALEXuniting@gmail.com
"I would rather not talk about this. It's died down," Spencer told BuzzFeed when asked for comment. "I haven't seen any flyers where I live in NoVa. Everyone has been kind and welcoming. I have no bad experiences moving into Alexandria." He added that "This is not a public-facing facility at all," in spite of how the "hub" comment was interpreted. "A public facing facility is something with a storefront, or a name on the door, or something like that. That's not at all what we have. I do want that in the future, but we're not in the position in terms of funding to have something like that. We would need full-time security, and so on."
Mediaite has reached out to the email address on the flyer and will update you if we hear back.
Have a tip we should know? tips@mediaite.com