Rick Perry Campaign Says He Didn't Mean to Call Charleston Shooting an 'Accident'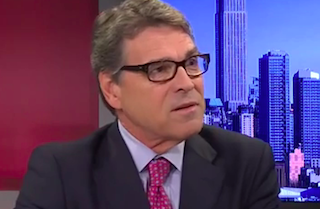 During the same interview in which he showed an openness to the idea of removing the Confederate flag from the South Carolina statehouse, GOP presidential candidate and former Texas governor Rick Perry referred to the shooting at a black church in Charleston this week as an "accident."
Asked by Newsmax host Steve Malzberg if President Barack Obama was too quick to bring up the issue of gun control in his remarks on the attack, Perry replied, "This is the MO of this administration. Anytime there is an accident like this — the president's clear, he doesn't like for Americans to have guns and so he uses every opportunity, this being another one, to basically go parrot that message."
Later, he attempted to shift the focus of the conversation away from guns and onto the Xanax and other prescription drugs that shooter had allegedly taken.
"It seems to me, again without having all the details about this, that these individuals have been medicated and there may be a real issue in this country from the standpoint of these drugs and how they're used," Perry said.
When Perry's campaign was reached by Business Insider to explain what Perry meant by "accident," his communications adviser Lexi Stemple suggested that the candidate misspoke. "When watching the entire interview, it's clear from the context of his comments that Governor Perry meant incident," she said.
You can do just that below, via Newsmax (Charleston discussion starts at approx. 13:30):
[Photo via screengrab]
— —
>> Follow Matt Wilstein (@TheMattWilstein) on Twitter
Have a tip we should know? tips@mediaite.com