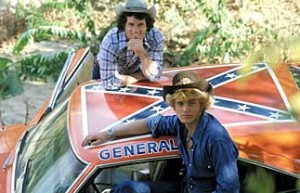 On November 10, the Texas Department of Motor Vehicles will hold a vote on whether or not the state will allow special license plates — bearing the Confederate flag — to be issued in commemoration of the Civil War's 150th anniversary. The proposal is sponsored by Texas Land Commissioner Jerry Patterson, on behalf of the Sons of Confederate Veterans, an organization that has a man walk onto your screen and speak loudly if your volume is turned up when you visit the website.
The drama, if it needs to be explained, is pretty clear: Some people, like state Sen. Rodney Ellis, view the flag as a symbol of oppression and racism. Ellis told The Houston Chronicle's Taylor McGilvray that some of his ancestors fought for the Confederacy, but that has little bearing on his view. "They don't know me and I don't know them, but I'm glad they lost," Ellis said. "They were on the wrong side of history and that's what this is about today."
RELATED: Flat Tax Fever: Steve Forbes Endorses Rick Perry
Others contend that the license plate is a tribute to the soldiers who fought against northern invaders, and is a way of honoring the dead. According to the group, proceeds from the sale of the plates would be used to place markers on Confederate soldiers' graves and to build monuments honoring Confederate heroes. Some proponents of the special plate also say that the flag is just part of the SCV logo:
"They make it sound as if there's some brazen banner on the plate," SCV member Frank Johnson told UPI. "It's a 3-by-3 [inch] logo. It's not the battle flag! It's the Sons of Confederate Veterans logo."
Rick Perry, who is still governor of Texas, hasn't responded directly to calls for a statement, but Catherine Frazier, a spokeswoman for his presidential campaign, told The Wall Street Journal that the decision on the plate rests squarely with the board of the Department of Motor Vehicles.
"Gov. Perry did not bring this plate to the…board and at no time has he asked for it to be approved," Victor Vandergriff, the DMV board chairman, added in a statement. "We continue to encourage the public to share their comments and feedback" on the plate. In April, according to the Chronicle, the DMV held a vote on the plates and ended in a 4-4 tie, with one member absent. The vote on Nov. 10, if it shoots down the plate, may not be the end of it, either, as the SCV has won court decisions — behind freedom of speech arguments — in a few states already.
Enjoy a report on the controversy below, courtesy of ABC 13 News:
Have a tip we should know? tips@mediaite.com