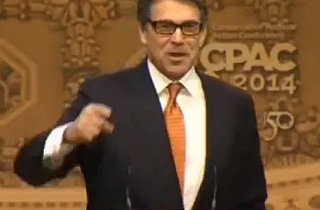 Texas Republican Gov. Rick Perry opened the second day of the Conservative Political Action Conference (CPAC) with a well-received speech that reportedly brought the audience to its feet with loud applause and cheers.
The outgoing Texan governor's speech praised fellow Republican state executives, including South Carolina's Nikki Haley, Louisiana's Bobby Jindal, and Wisconsin's Scott Walker.

He slammed the Obama administration as having instituted policies that "destroy the economy and embolden foreign enemies." In what sounds like a preview of a potential 2016 presidential run, Perry told the crowd: "I am here today to say, we don't have to accept recent history. We just need to change the presidency. It's not too late for America to lead in the world, but it starts by leading at home."
The speech reached a climax towards the 10-minute mark, as Perry's voice began to rise and the applause grew. "Defend our country, provide a cogent foreign policy, and what the heck, deliver the mail, preferably on time and on Saturdays," he said of what he believes should be government's proper role.
-RELATED: So How Did That CPAC 'Minority Outreach' Panel Go?
"Get out of the health care businesses, get out of the education business," he began to shout. "My fellow conservatives, the future of this nation is upon you! It belongs to you! You have the power to change America. […] You are the path to the future, a light on a distant shore."
And he concluded, as the audience stood and cheered loudly: "You represent the renewed hope that America can be great again!"
Watch the full speech below:
Have a tip we should know? tips@mediaite.com