'Rise Up,' 'Move Ahead,' and Other Potential Clinton Slogans Revealed in WikiLeaks Emails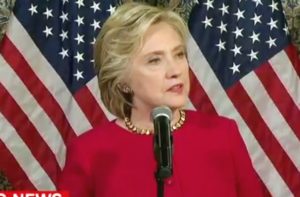 One of the John Podesta emails WikiLeaks dumped reveals dozens and dozens of potential slogans that were thrown out as possibilities for Hillary Clinton's 2016 campaign.
And boy, is there a lot to digest in there.
Remember, the two they ended up settling on were "I'm With Her" and "Stronger Together." (The latter has been emphasized more recently.)
The email from 2015 shows that all sorts of potential slogans were separated into 8 separate themes, including "fighter," "basic bargain/making America work," and "It's about you."
Just to give you an idea of what they were doing, here's all the slogans they listed under "fighter":
Fighting for Fairness. Fighting for you.
She's got your back.
Your family is her fight
Your family. Her fight
Your future is her fight
Your future. Her fight.
A force for families
No Quit
A fighting chance for families
(Even by the standards of reductive slogans, "No Quit" seems perhaps a bit too Hulk-speak.)
Other potential slogans included "Progress for people," "A new bargain we can count on," "Progress for the rest of us," "A future worth fighting for," "Move ahead," "Unleash opportunity," and––I'm being serious here––"Next begins with you."
Now, "Stronger Together" is on there, but so were all these actual other strength-themed slogans:
A stronger tomorrow
Strength and fairness
Tomorrow we're strong
Strength you can count on
A stronger America working for you
The ideas we need and the strength to deliver
A stronger America for a new day
America's strength. America's promise.
American strength from American families
Stronger at home
For an America that leads
America gets strong when you get ahead
A stronger America one family at a time
Strength for all our families
Any thoughts on how much "Make America Great Again" was workshopped? If at all?
[h/t Lachlan Markay]
[image via screengrab]
— —
Follow Josh Feldman on Twitter: @feldmaniac
Have a tip we should know? tips@mediaite.com
Josh Feldman - Senior Editor