Robert Gibbs Catches CNS Reporter Misappropriating Comments To New Health Care Chief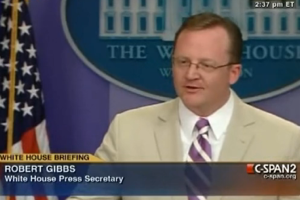 CNS News' Fred Lucas was curious to hear White House Press Secretary Robert Gibbs' take on comments by newly-appointed health care chief Donald Berwick about "redistribution." After slamming Lucas for playing political games and talking about public comments as if they came from a "secret comment book" that he had mysteriously acquired, Gibbs caught Lucas attributing comments to Berwick by Republican Congressman Paul Ryan.
Lucas asked specifically about a comment that "excellent health care is by definition redistribution," which Gibbs dismissed as "the exact type of political game that the American people have come to understand dominates Washington and doesn't actually make their health care more affordable." He also cited support from Bush-era leaders of the health care agency for Berwick, and supported him as someone qualified to run the agency.
Not satisfied, Lucas continues to probe on the comments about redistribution, irritating Gibbs into asking "Is there like a secret comment book that somehow you got and nobody else got and you just read a couple of them to me and somehow they wouldn't have come out?" Diving into his own "secret comment book," Gibbs pulled out a comment that sounded remarkably similar to the one Lucas attributed to Berwick and asked him to confirm whether that was the comment he was concerned about. It was. The comment was by Republican Congressman Paul Ryan.
The lesson? Robert Gibbs won't entertain baseless questions from reporters who haven't done their homework. And when he does, he makes enough of an example out of them to keep the rest of the Press Corps on their toes.
Video below:

Have a tip we should know? [email protected]