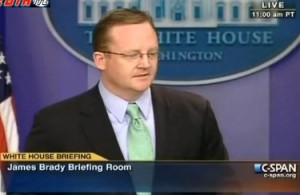 NASA Chief Administrator Charles Bolden got a lot of attention last week, when he revealed during an interview with Al Jazeera that President Obama had "asked him to reach out to the Muslim world" (while setting other goals.) Right of center media outlets cried foul which lead Jon Stewart to defend as as part of "innocuous and bland of broad PR goals." But it turns out that, according to Press Secretary Robert Gibbs, its a all a big misunderstanding! Bolden 'misspoke' about the Muslim outreach goal.
During today's Press Briefing, CNN's White House correspondent Ed Henry addressed this issue with Gibbs, asking why a NASA Administrator should be focusing on reaching out to the Muslim world. Gibbs did not demure in his response, saying "that's an excellent question and I don't think…that is not his task, and that was not asked of him." Henry followed up with a quick "so he misspoke?" to which Gibbs said "I think so."
Over the last week, this is an issue from which a lot of hay was made by the traditional opinion sources from the right. Conspiracy theorists will cry "cover up!" while others will call it nothing more than a public relations issue. Either way, this bring up the issue of whether or not Bolden was in fact tasked with the Muslim outreach for another news cycle.
For background and context on how the media reacted to reports of Bolden's controversial comments, please view the Jon Stewart segment on it below:
Have a tip we should know? tips@mediaite.com