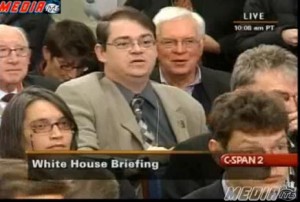 Today marks the auspicious launch of Tucker Carlson's The Daily Caller, and in light of Carlson's insistence that they're not out "to grind any axes," I was a little bit surprised by a front page story that said of the Underwear Bomber "he was 'singing like a canary' until the Obama administration read him his rights." I wanted to double-check the facts on that, but when I asked Press Secretary Robert Gibbs about The Daily Caller, he said "What's that?"
Gibbs was clearly joking, of course, but this story goes a long way in showing what The Daily Caller is. Setting aside the surreal image of the entire Obama administration surrounding Umar Farouk Abdulmutallab and reading his Miranda rights in unison, the story didn't have any factual basis to claim that there was anything left to learn from Abdulmutallab. Still, I wanted to make sure there was no wiggle room in what counterterrorism czar John Brennan said last week. Here's the video:
Whether you favor civil trials or military tribunals for terrorism suspects, the fact is that in this case, there was no intel lost to Abdulmutallab's Miranda rights, which was likely a determining factor in the decision to try him in federal court.
I didn't get to much else of The Daily Caller because of the early briefing time, but if this is Tucker Carlson's idea of ax-less journalism, he's not seeing the forest for the trees his axes are chopping down.
The Daily Caller was also the topic of some pre-briefing buzz in the press room, with generally favorable comments that veered toward, "Yeah, but another one?" As Mediaite can attest, however, there's always room for a well-executed site with fresh ideas.
Have a tip we should know? tips@mediaite.com