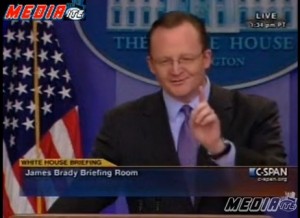 At today's White House briefing, Press Secretary Robert Gibbs was asked, by CNSNews.com reporter Fred Lucas, to comment on President Obama's use of the term "tea-bagger" in an interview for Jonathan Alter's book. Gibbs replied that he hadn't read it.
I followed up by asking Gibbs if he could find out if the President was aware of the controversy, or if he had any comment about his word choice. Short reply: Not a tea bag's chance in hell.
Transcript:
Fred Lucas:    Thanks, Robert.  In Jonathan Alter's new book, the President is quoted as using a vulgar term to describe the Tea Party movement.  Is the quote accurate, and does the President —

MR. GIBBS:  I have — I barely have enough time to read my briefing books, and what I have — I have — no offense to Jonathan, but I have not read his book.

April.

Chip Reid:    But you'd only have to read one word to answer his question.  (Laughter.)

MR. GIBBS:  Chip, you go buy me Jonathan's book so that he gets the royalty —

Chip Reid:   Deal, deal.

MR. GIBBS:  — and I will be glad to read the word.

April.

Savannah Guthrie:    You haven't heard about this, though?

Fred Lucas:    So is the answer then that you don't know?

MR. GIBBS:  The answer is I haven't read the book.

…MR. GIBBS: Tom.

Tommy Christopher:    Thanks, Robert.  I have two quick questions.  But first, are you able to get an answer on Fred's question about the tea-bagger quote, if the President is aware that people are offended and —

MR. GIBBS:  Again, I've not seen the book.  I can't imagine I'm going to ask the President that.  But I will entertain it.

Tommy Christopher:   if he has any comment on his word choice?

MR. GIBBS:  I will check.
Have a tip we should know? tips@mediaite.com