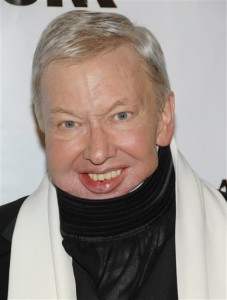 It seems, in the past few months, America has begun to realize how close we came to losing Roger Ebert. The beloved film critic has been through a long series of cancer treatments that forced him to leave his television show At the Movies (which was recently canceled) and eventually led to the loss of his lower jaw and, with it, the ability to speak, eat, and drink. Thanks in part to an inspirational appearance on Oprah last month, there has been an increased interest in Mr. Ebert. However, with all the focus on how he can't speak, many people have forgotten that his writing is still as vibrant as it's always been. Perhaps a terrific blog post that he published on his site earlier this week will remind people.
Before Ebert was hoisting his famous thumbs with Gene Siskel on TV, he was a screenwriter. He wrote one of the most famous comedies of the 70s in Beyond the Valley of the Dolls, the insane Russ Meyer classic featuring lots of drugs, transexual serial killers, and lesbian sex scenes. Yesterday's blog post, written to memorialize the passing last week of famed rock and roll producer Malcolm McLaren, details the pre-production of the Sex Pistols movie he wrote for Meyer that never got filmed.
While the post is long, we recommend you all give it a read. It's got everything you'd want in a great celebrity memoir: cameos by other famous people, details about cultural movements as they were just beginning, and hilarious anecdotes about rock stars that seem unbelievable yet completely fitting at the same time (At one point, Meyer, McLaren, and Ebert show Sid Vicious the script for a scene where he and his mother do heroin and then have incestuous sex. Vicious studies it thoughtfully before giving one note, "I don't think me Mum will like the part about the heroin.").
The blog post also contains sections from the un-produced screenplay like this one where Johnny Rotten ends up at "The Church of Scientometry", a Scientology parody that is run by a car manufacturer instead of a science fiction writer.
"He sees an automobile seat, facing a steering wheel, a gas pedal, and a speedometer.

JOHNNY ROTTEN
I've got my provisional license — and I haven't got a car anyway.

GIRL
The H-Meter has nothing to do with driving.

JOHNNY ROTTEN
What the fuck is it then?

GIRL
This is the Church of Scientometry. And this is the H-Meter, named after our leader, the Holy Man from Italy, Guru Vaser-Rati.

JOHNNY ROTTEN
I've heard of him somewhere.

GIRL
Just grasp the steering wheel, which picks up the electrical vibrations from your hands, and when I ask you questions, push down hard on the accelerator for "yes," and on the brake for "no.:

JOHNNY ROTTEN
What if I don't know the answer?

GIRL That's about 36 miles per hour."
In the hands of Ebert, all of this is a great read (how could any story involving personalities like Meyer, McLaren, and the Sex Pistols not be?) and a great reminder how lucky we are that Ebert beat the cancer. He may have lost his jaw, but thank God he still has his fingers to type (including those famous thumbs)!
Read the full blog post here.
Have a tip we should know? tips@mediaite.com