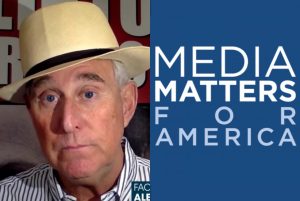 It's not often that Trump surrogate Roger Stone and the folks over at Media Matters would agree on pretty much anything.
After all, Stone in the last year has more aligned himself with Alex Jones and the InfoWards crowd than anything else, maintaining that his pal Donald Trump is the right direction for the country. Meanwhile, Media Matters has continued its onslaught against Roger Ailes and biased Fox News reporting.
So where does the impossibly-slim Venn Diagram of these two match up? At the intersection of Corey Lewandowski and CNN, of course.
Stone took to Twitter earlier today to reveal that he actually finds himself agreeing with the "bully boys" of Media Matters on the crucial issue of CNN effectively firing their controversial on-air contributor Lewandowski, a former Trump camp bigwig who received severance from the campaign up until just a few weeks ago.
So very rare that I agree with the bully boys at @mmfa https://t.co/VoqlCL5ASP

— Roger Stone (@RogerJStoneJr) October 10, 2016
The link that Stone redirected to is a Media Matters petition to CNN to take Lewandowski off the air, writing, "What looked at first like an indefensible hire has mushroomed into perhaps the worst conflict-of-interest problem in the history of cable news."
The letter, which is addressed to CNN President Jeff Zucker, reads, "CNN has a Corey Lewandowski problem," furthering:
"Lewandowski is still functioning as a campaign adviser. He's bragged about still being able to advise Trump. At the Republican National Convention in Cleveland, he was pitching donors about a possible Trump Super PAC that he would run – when he was not acting as a delegate. On CNN itself, Lewandowski has acted more like a campaign spokesperson than an analyst."
Have a tip we should know? tips@mediaite.com