Roger Stone Walks Back Accusation That Khizr Khan is Affiliated With the Muslim Brotherhood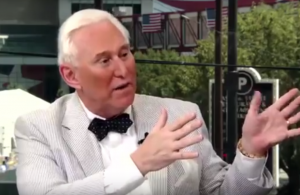 When Roger Stone proclaimed last night that breakout DNC star Khizr Khan is a member of the Muslim Brotherhood, there was a lot of shock to go around. After all, Khan and his wife are Gold Star parents who appeared at the DNC to talk about their son, who died serving in the American military in Iraq. To imply — no, to state — that Khan has ties to an Islamist group is disrespectful in the very least. To back it up with a dubious source, as our Alex Griswold pointed out today, is irresponsible and, some might argue, shameful all around.
Stone heard those concerns loud and clear! He amended his tweet with a second one! He walked back that claim that Khan is part of the Muslim Brotherhood, okay?
CORRECTION- Mr. Kahn is not an agent of the Egyptian Muslim Brotherhood. His association is with Saudi Jihadi and Omar Naseef #9/11funder

— Roger Stone (@RogerJStoneJr) August 1, 2016
…well, he did amend what he said, it's just that he also tied Khan to Omar Naseef, who he described as a "Saudi Jihadi" and funder of the September 11 terrorist attacks. This time, though, there wasn't even a link to a blog or other suspect source.
One step forward and two steps back? His followers seem to think so:
@RogerJStoneJr lol #TrumpTrain pic.twitter.com/bHCldnxsXk

— NYC Trader (@nycrader10) August 1, 2016
@rogerjstonejr Disappointed that you're posting fake information about the father of an American hero. Which branch did you serve in Roger?

— Paul Mooney 慕亦仁 (@pjmooney) August 1, 2016
@RogerJStoneJr whatever. pic.twitter.com/3aVg8AfZ0J

— t. francis smith (@porkchopgreasy) August 1, 2016
Khan may yet address these claims in coming interviews or he might take the advice Roy Blunt gave Donald Trump about the whole situation and "stop responding to every criticism."
[image via screengrab]
Have a tip we should know? tips@mediaite.com