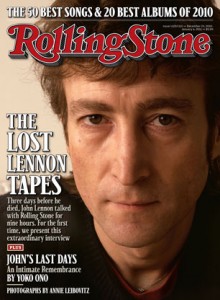 The Beatles have certainly made a splash in the media this year, perhaps more so than most years. Google wished John Lennon a happy 70th birthday with a special video edition of its logo, while Apple made the entire Beatles catalog available on iTunes. Now Rolling Stone is entering the nostalgic arena by releasing recently unearthed clips from what's believed to be Lennon's last ever print interview, conducted three days before his death.
Some simple housecleaning led Jonathan Cott to the tapes, which were just chilling in his closet, minding their own businesses. He gave them a listen, something he hadn't done since he'd originally conducted the interview thirty years ago. Rolling Stone is releasing the transcribed interview in its upcoming issue and has made the audio available on its website and for free on iTunes.
Excerpts from the interview have Lennon mulling over a potential Bealtes reunion, as well as him wishing never to be the "dead f*cking hero" that he would become later in the week.
In the remarkably candid interview Lennon lashes out at fans and critics who went after him during his five-year break from music. "What they want is dead heroes, like Sid Vicious and James Dean," Lennon says. "I'm not interested in being a dead f*cking hero…so forget 'em, forget 'em."

He also talked about plans for a possible return to the road. "We just might do it," he said. "But there will be no smoke bombs, no lipstick, no flashing lights. It just has to be comfy. But we could have a laugh. We're born-again rockers, and we're starting over…There's plenty of time, right? Plenty of time."
You can stop by the Rolling Stone site to read and hear more from the interview.
Have a tip we should know? tips@mediaite.com