Romney Campaign Denies Mitt Romney Left 'Bullying' Messages For Slain Marine's Mother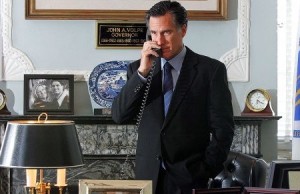 Stephany Kern, mother of late Marine Lance Corporal Nickolas Schiavoni, is speaking out about a series of phone messages that then-Governor Mitt Romney (R-MA) left in the days following her son's 2005 death in Iraq. Mrs. Kern told The Boston Phoenix that when she did not immediately return his condolence call, Gov. Romney left messages that were "bullying," describing one as "shocking," and the other as "outrageous."
The Romney campaign issued a quasi-denial, telling The Huffington Post that "Anyone who knows Governor Romney understands he would never treat or address anyone in the way described."
Lance Cpl. Schiavoni was killed in Iraq on Nov. 15, 2005, when he and two others were investigating a suspicious vehicle that was then detonated by a suicide bomber. They day after his killing, many officials left messages of condolence, according to Mrs. Kern, but only one of them got ugly. From The Boston Phoenix's David Bernstein:
"I can't believe you haven't returned my call," Romney said on one of the voice mail messages, according to Stephany Kern, speaking at her Westerly, Rhode Island home this past Saturday. "Here I am making a second call; I haven't heard from you."

Kern did not save the messages. This is the first time she has spoken publicly about them.
Mrs. Kern explained that she was overcome with grief, and wasn't returning any calls at the time. Senators John Kerry and Ted Kennedy reached out to other family members to follow up, but not Governor Romney:
It was around the time of that Kennedy message, she says, when "I got the [second] phone call from Governor Romney, who could not believe — could not believe — that I hadn't returned his phone call. It was shocking to me…. And I think that just bypassed me until I got the third phone call. The third phone call was outrageous."

Steve Kern, who has been married to Stephany Kern since prior to Schiavoni enlisting in 2002, says that he heard Romney's second and third messages.

He recalls Romney saying in one: "I'm a busy man." He describes Romney's tone as "disrespectful," "antagonistic," and "absolutely inappropriate to use on a Gold Star mother."
Romney campaign spokeswoman Amanda Henneberg responded to The Huffington Post's Sabrina Siddiqui, via email, that "Anyone who knows Governor Romney understands he would never treat or address anyone in the way described. The Governor honors the commitment made by every brave American who wears our nation's uniform as well as the sacrifices made by their loved ones. He honored this fallen Marine by naming Nov. 26th Nicky Schiavoni Day."
Siddiqui also points out that Mrs. Kern acknowledged Gov. Romney's gesture in a 2006 speech. Mrs. Kern is a member of Military Families Speak Out, an organization of family members of Iraq and Afghanistan servicemembers, who are opposed to those wars.
This is an unfortunate story for Gov. Romney, who already has a credibility problem on military service. Not only did he sit out the Vietnam War in France, after protesting in favor of the draft, he even complained about how "tough" America's involvement in the war made it for him while he was sitting it out. Now, he's put in the position of calling a slain Marine's mother a liar, through a spokesperson.
That spokesperson, it should be noted, didn't deny that Gov. Romney left the messages, but only disputed how Mrs. Kern described them. It's possible that Gov. Romney only mentioned his schedule to express the intention that he not miss the opportunity to speak to her, and it just hit her the wrong way, but no one seems to dispute the fact that he skipped the funeral, which contradicts what Ann Romney told the hosts of The View. Either way, Gov. Romney would have been better served responding, if he was going to at all, by personally apologizing for anything he might have said that didn't convey his sincere sympathy. Whether you think Romney deserves the benefit of the doubt or not in this case, Mrs. Kern certainly has earned it.
(h/t Kris Benson)
Have a tip we should know? tips@mediaite.com