Romney Seeks Formal WaPo Retraction For Bain Capital Outsourcing Story (UPDATE)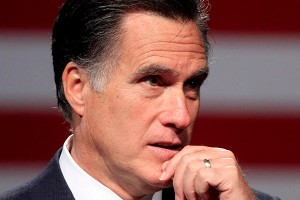 Representatives from Mitt Romney's campaign are meeting with The Washington Post today to seek a retraction for their story that said Bain Capital invested in firms that specialized in outsourcing jobs to low-wage countries like China and India. According to POLITICO, Team Romney intends to argue the Post's assertion was incomplete or inaccurate.
They are set to meet at the paper's Washington D.C. office at 2 p.m. — with executive editor Marcus Brauchli and other senior staff. More specifically, "the group will argue that the Post misinterpreted the SEC filings it examined for its report and failed to adequately account for the support these firms gave to U.S. exports or U.S. businesses through foreign hiring. The campaign raised similar objections to the story prior to its publication."
The WaPo report in question, written by Tom Hamburger, was published on June 21, under the headline "Romney's Bain Capital invested in companies that moved jobs overseas." Looking at SEC filings, it asserted that Bain was involved in outsourcing early on, "at a time when the departure of jobs from the United States was beginning to accelerate and new companies were emerging as handmaidens to this outflow of employment."
An excerpt from the story:
Mitt Romney's financial company, Bain Capital, invested in a series of firms that specialized in relocating jobs done by American workers to new facilities in low-wage countries like China and India.

During the nearly 15 years that Romney was actively involved in running Bain, a private equity firm that he founded, it owned companies that were pioneers in the practice of shipping work from the United States to overseas call centers and factories making computer components, according to filings with the Securities and Exchange Commission.

[…]

Bain played several roles in helping these outsourcing companies, such as investing venture capital so they could grow and providing management and strategic business advice as they navigated this rapidly developing field.
Post spokesperson Kris Coratti told POLITICO, "The Post's editors take all complaints seriously and are always willing to listen to concerns and look into them."
Previously, the Romney campaign had argued the WaPo story is "fundamentally flawed" because it "does not differentiate between domestic outsourcing versus offshoring nor versus work done overseas to support U.S. exports."
President Obama's campaign has latched onto this criticism of Romney, with Vice President Joe Biden quipping yesterday, "You've got to give Mitt Romney credit. He is a job creator — in Singapore, and China, India. He's been very good at creating jobs overseas."
In defense, the Romney campaign asserted a differentiation between "outsourcing" and "offshoring" — an argument Obama openly mocked.
UPDATE: POLITICO reports that the Washington Post will not retract the story. Coratti told POLITICO, "We are very confident in our reporting." Per their report:
The Romney campaign would not discuss the meeting. "It was an off the record private meeting so I don't have anything for you on that," campaign press secretary Andrea Saul told POLITICO.

UPDATE: Here are the Romney campaign's complaints against the Washington Post story.
(H/T POLITICO)
Have a tip we should know? tips@mediaite.com