Roseanne Barr Calls Sarah Palin Our "National Pom Pom Girl," Is Not An Obama Fan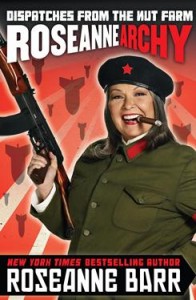 Not too much has been heard from Roseanne Barr lately. The reason, she says, is that she's been hard at work on a new book – Roseannearchy: Dispatches From the Nut Farm. (The title works on multiple levels: Barr's home is literally a macadamia farm.) In an interview with USA Today to promote her new tome, Barr is characteristically blunt and candid about her thoughts on everything from comedian Kathy Griffin ("I discovered her about 30 years ago, when she was 40.") to what she thinks about former Alaska governor – and current television star – Sarah Palin. In what must come as a complete shock, Barr is not exactly a fan of Wasilla's most famous export:
Q: You call Sarah Palin "our geopolitically challenged national pompom girl." Explain.

A: She's a beauty queen, so right away I hate her. I think she's stealing my act, so that pisses me off. And she's not even doing it right. Be for the working people, not against them.
The interview doesn't include any sort of elaboration on what Barr means by that but, as Business Insider aptly points out, Barr rose to fame with a standup routine and a popular series showing the trials and tribulations of working class Middle America.
Of course, Barr has taken issue with Palin for some time now. Back in 2008, Barr took to The Huffington Post to share her thoughts on Palin's stance on contraceptives and abstinence: "She believes that even though women have a responsibility to get pregnant as much as they can, the children they give birth to are better off with their fathers, since their mothers must be busy passing laws preventing other women from not getting pregnant when they are practicing 'abstinence.'"
Other revelations from the interview: Barr adores HLN's Nancy Grace (and even calls her an "oracle") and doesn't know what she did for Oprah Winfrey to stop inviting her onto her show.
Barr also appeared on ABC's Nightline, where she said she sympathizes with the Tea Party movement… and took another jab at Palin:
I understand a revolt by American taxpayers who are getting nothing for paying these huge taxes. But the solution is for the American public to have some say in how public money is spent. And I believe that public money needs to be spent on the American public, not these private contractors who Sarah Palin works for.
In the same interview, Barr shared that she did not want Barack Obama to be president and, furthermore, believes his health care law is "a bunch of crap" and personally supports a public option.
(H/T Business Insider)
Have a tip we should know? tips@mediaite.com