Round 2: Nancy Grace And Dan Abrams Hash It Out In A Coffee-Fueled Twitter Fight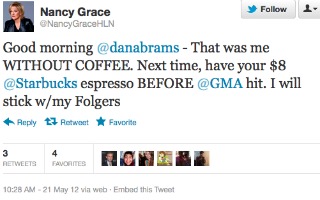 You may have seen that, earlier this morning, we covered HLN host Nancy Grace's appearance on Good Morning America alongside ABC legal analyst and Mediaite founder Dan Abrams. The two became embroiled in an increasingly heated argument regarding the case of missing girl Isabel Celis. Grace had mentioned that she'd listened to a 911 call placed by Celis' father. She grew visibly annoyed with Abrams after he rejected the notion that guilt or lack thereof can be determined via voice analysis.
RELATED: Nancy Grace Goes Bonkers On Dan Abrams… Again
Following the segment, Abrams joked on Twitter that he'd woken up with the kind of "jolt" most early risers receive from a cup of coffee:
Some people wake up with coffee, I often wake up with a different kind of jolt @GMA

— Dan Abrams (@danabrams) May 21, 2012
Well, as it turns out, Nancy Grace can play that game, too. She responded to Abrams' Tweet, taking aim at his "fancy" coffee:
Good morning @danabrams – That was me WITHOUT COFFEE. Next time, have your $8 @Starbucks espresso BEFORE @GMA hit. I will stick w/my Folgers

— Nancy Grace (@NancyGraceHLN) May 21, 2012
But, as Abrams explained, he gets his coffee in the "hood." He's also not afraid to unleash the most devastating weapon in any given Twitter fight — the ironic smiley emoticon:
Nice @nancygracehln. I get my coffee in the hood @Joecoffeenyc, but I'm confident with your huge salary buying coffee isnt an issue. :)

— Dan Abrams (@danabrams) May 21, 2012
You know, we've always wondered why a barista — named Joe, obviously — had his own office right next to Dan's.
We will, of course, update this story as it develops. Maybe these two will move on to the class warfare inherent in the ongoing Snickers vs. Godiva debate.
Have a tip we should know? tips@mediaite.com