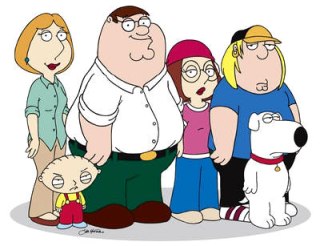 The FOX hit cartoon Family Guy has a long history of non-PC humor and taking sharp political jabs, almost exclusively aimed at conservatives and the GOP.
That's about to change. The show is working on an episode that will include conservative heroes Rush Limbaugh and Karl Rove – and from the look of Rove's tweets about it, they are very invovled in the process of putting the episode together.
As part of responses to inquiries from some of his followers, Rove tweeted:
We're working on the FG script @Randy_Hudson. And, it's satire, so everyone will be mocked!
and:
No political arguments w/ Mr. MacFarlane @BenInNy. Had conference call w/ him Friday 2 finalize FG script. Thank my participation to my son!
Mr. MacFarlane would be creator Seth MacFarlane, who has never been shy about his liberal political views (meanwhile his son, Andrew, is a teenager – and must be a fan of the show).
Family Guy has been a frequent target of criticism from the right-wing. The Parents Television Council regularly puts it on its "Worst TV Shows" list, and there are claims of promoting anti-Christianity. In an October episode last year, a character on the show was portrayed wearing a Nazi uniform – and a McCain/Palin button.
But including Limbaugh and Rove in the show – and as it sounds from Rove's tweets, in the process of shaping the episode – is the right move. As MacFarlane told THRFeed.com, "Family Guy' tends to be very liberal because it's written by liberals…So we thought let's give the other side some face time."
Giving the right-wing of the country an in on the comedic satire front is a mature decision by a show that has continued to expand its reach into the mainstream. It received its first Emmy nomination for Best Comedy earlier this month.
Now can Rove and Limbaugh be funny and self-deprecating? Maybe they'll bring back cartoon MC Rove.
Here's MacFarlane talking about the upcoming conservative-themed episode:

Have a tip we should know? tips@mediaite.com