Rush Limbaugh Is Upset About Romney Not Caring About 'The Very Poor' (But For A Different Reason)
Rush Is Upset About Romney Not Caring About 'The Very Poor'...But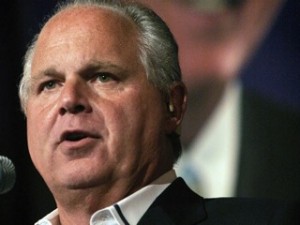 This morning on Starting Point, Mitt Romney seemed to get a bit of his foot in his mouth when he tried to explain that his focus was on the middle class by saying that he is "not concerned about the very poor." Obviously, this has caused a few eyebrows to raise including those on the face of Rush Limbaugh. However, Limbaugh was upset for a different reason that most people talking about this quote. Sure, he feels that Romney should be concerned about the very poor but, more importantly, he's upset Romney's not concerned about those damned entitlement programs.
RELATED: Mitt Romney Tells Soledad O'Brien: 'I'm Not Concerned About The Very Poor'
Romney's full quote was that he's not concerned about the very poor because "we have a safety net there." It was that reasoning that got under Limbaugh's skin.
"The safety net is one of the biggest cultural problems we've got! We had better be worried about it just like we had better get angry over Obamacare. Obamacare is worth getting mad about. Mitt said that it wasn't. This biz, 'I'm not concerned about the very poor. We have a safety net there'? Right, the safety net is contributing to the destruction of their humanity and their futures! "
Limbaugh was also worried about how the sound bite could easily be used to attack Romney. He accused the candidate of making a target out of himself because he "comes across as the prototypical rich Republican."
Limbaugh used this reasoning to combat one of the main knocks on Romney's rival Newt Gingrich; that, because of Gingrich's baggage, the focus will be on him when it should be on President Obama. Quoting from an Aaron Goldstein piece in the American Spectator, Limbaugh argued that things could be even worse for Romney because he keeps making poorly phrased blunders like this.
Listen to the clip below:
Have a tip we should know? tips@mediaite.com