Radio Host Asks GOP Candidate To 'Get Your Stupid A** Out,' Is Afraid 'Whiteness' Will Rub Off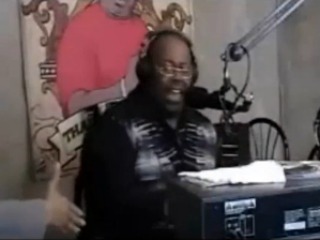 Memphis-based radio host Thaddeus Matthews recently spoke with Republican congressional candidate Charlotte Bergmann in an interview that quickly devolved into insults and accusations of "tokenism."
The video below was posted to YouTube on January 25th by someone who isn't a Tea Party fan, to say the least, hence the inflammatory subtitles you'll see running across the bottom of the footage and between segments.
Matthews asked Bergmann whether she is a member of the Tea Party movement, and became dissatisfied with her answer there is no "membership" in the movement and that she is "affiliated" with "every organization."
RELATED: Soledad O'Brien's Starting Point Panel Argues Over Newt Gingrich Being 'Subtly Racist'
"B.S me not," he pressed on, asking her if the Tea Party is financing her campaign in any way, shape or form. "I would love for them to," she replied, "but they're just as broke as I am." She then noted that, while the Tea Party once endorsed her, it now thinks of her as "a loose canon."
The interview took a turn when Matthews asked Bergmann if she was a "token of white folk" being used by white people to harm the black community, then telling her to "shut up for a moment" when she tried to respond. Later on, he referred to her as a "token negro" and informed her she was "full of shit" after she'd given him unsatisfactory responses to his questions about her efforts in the 9th congressional district's black communities.
Have a listen to Part I of the video:
As the interview continues, Matthews threatens to cut his guest's mic, telling her "don't be as stupid as I think you are." When she remains unwilling to give him direct answers, he threatens to "put your ass up out of here."
When Bergmann cuts off the interview, Matthews tells her to "get your ass up out of here, get your stupid, ignorant ass up out of my studio. Another token-ass negro," refusing to shake her hand as she leaves.
"I'm scared," he continued, "because some of that whiteness might rub off on me."
Here's Part 2:

h/t The Blaze
Have a tip we should know? tips@mediaite.com