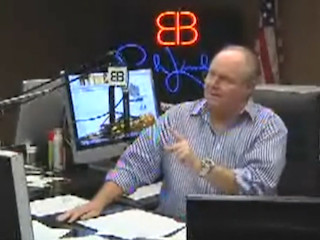 Everyone, get to know the name Dr. Wallace Charles Smith. This bio tells us that Dr. Smith is the Senior Minister at the historic Shiloh Baptist Church in Washington D.C. and has written guest editorials in the Washington Post. More importantly though, Rush Limbaugh just called him "Jeremiah Wright Jr." and you know what that means; we are going to hear a lot about the good pastor. The reason? Yesterday, Smith did the Easter sermon for the Obama family. Last year, however, he compared Limbaugh to the KKK. Yep, get to know that name, folks.
Limbaugh was referring to this Blaze story which quotes New Orleans radio host James Parker's assertion that Smith engages in race-baiting. The smoking race card in this case was a speech Smith gave at Eastern University last year. In it, Smith stated that America was no longer past its race problems, even with a black president, since "Jim Crow" can now "get a regular news program on Fox" and Rush Limbaugh can make the same "statements that was once the purview of Robert Shelton and members of the Ku Klux Klan and the White Citizen's Council." Ouch.
Limbaugh was clearly not amused. While he was briefly under the mistaken belief that these comments had come during yesterday's sermon and not, as they were, in January of 2010, Limbaugh mentioned that there really was no difference while correcting himself.
There's an upside to this though! Every time Obama gets in trouble for his Christian leaders, we stop hearing he's a Secret Muslim, right? Right?
Um, no. Listening to Dr. Smith was not the only way Obama got Easter wrong. Limbaugh also pointed out that Obama made a video message to the people of Iran for the Muslim holiday of Nowruz but didn't make a video for Easter. Sure, as Limbaugh pointed out, Obama made a statement talking about the resurrection of "our Lord, Jesus Christ," but where's the YouTube video? Huh? I bet Obama even spent time hanging out with multiple costumed Nowruz characters instead of just one Easter bunny!
Way to go, Obama. You just can't celebrate any holiday right and our Conservative media will catch you every time you screw it up. At least the Jews still like you. Oh, wait.
Listen to Limbaugh's summation of the situation below:
Have a tip we should know? tips@mediaite.com