S.E. Cupp Talks to Mediaite About Trump's Upcoming War on MeToo… And Her Move to CNN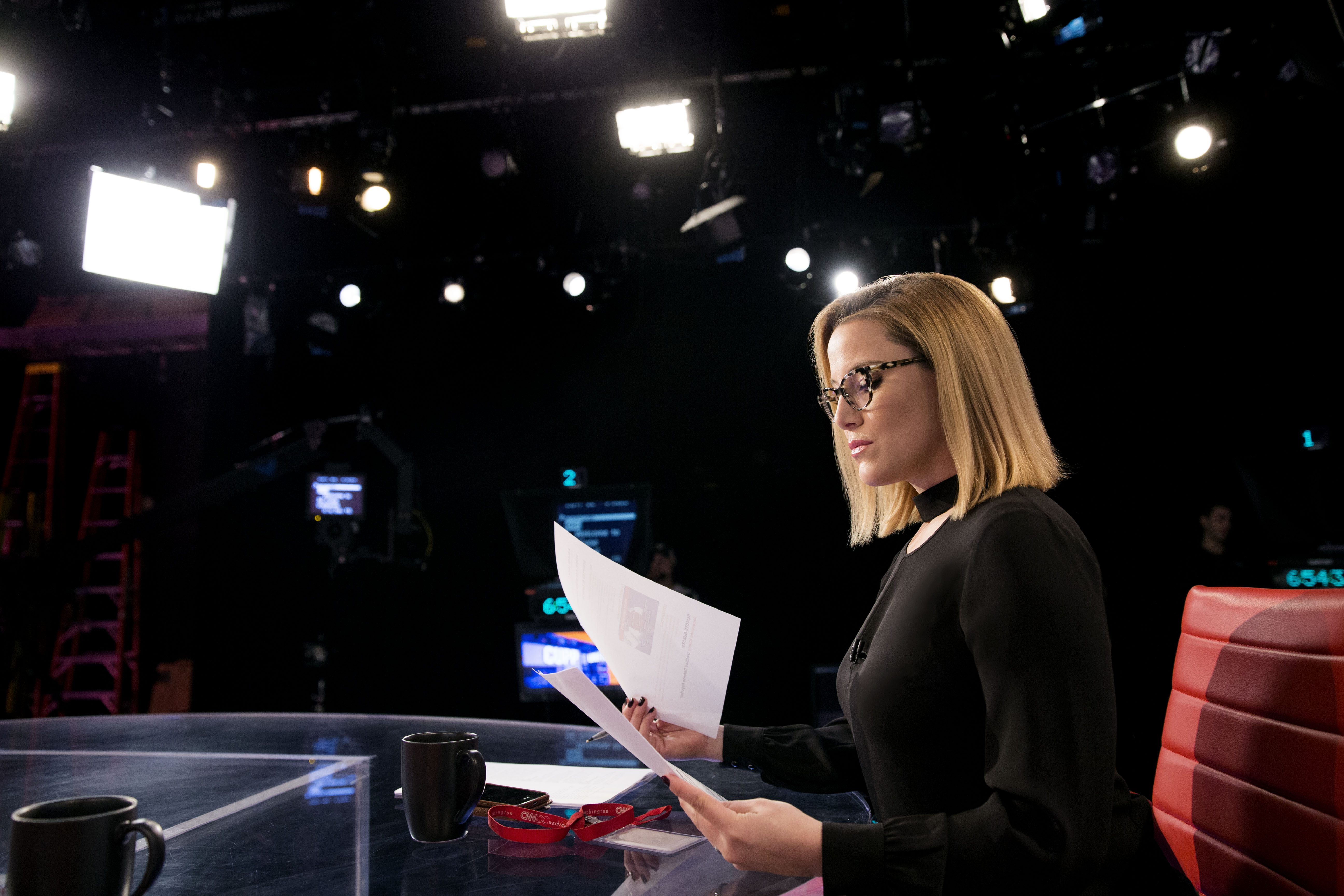 "It's lonely."
That, in two words, is S.E. Cupp's description of what it's like to be a conservative who stands against President Donald Trump in 2018. The right-leaning commentator has, for the past year, served as the host of S.E. Cupp: Unfiltered on HLN. And in that role, she's been representing an ever-shrinking constituency — a longtime Republican estranged from a party which now belongs to Donald Trump.
S.E. Cupp is on her own. And she knows it.
"For someone who was always part of the big tent Republican Party, with friends in all political corners — conservatives, Libertarians, social conservatives, fiscal conservatives — to now feel, sort of, alone…" Cupp said — her words trailing off. "I'm not with the party. I'm not with the president. I'm certainly not with Democrats."
As isolated as she now feels politically, solitude is — from a career standpoint — hardly an unfamiliar sensation to S.E. Cupp. After all, the 39-year-old Cornell grad has made a career of forging her own path. A conservative who once co-hosted a show on MSNBC. A pro-gay marriage athiest who worked for The Blaze. And, since last August, a provocative political commentator on a network whose anchors have mostly shied away from strong opinion.
That last, however, is about to change. After a year on the air at HLN, S.E. Cupp: Unfiltered is moving up to the parent network, CNN. Starting Aug. 25, the show will air weekly on Saturdays at 6:00 p.m. ET. It will serve as the lead-in to The Van Jones Show and David Axelrod's The Axe Files — which alternate the 7 p.m. timeslot.
Since its premiere, it was plainly obvious to viewers of Unfiltered that the show was miscast on HLN, and was far better suited to CNN. Its host agrees.
"The evolution of the show made it clear, we're really a better fit for CNN," Cupp told Mediaite in an interview earlier this week. She added, "I think we're a better fit for the audience. I think the show reads like a CNN show and so I think it just became clear to everyone that we're doing a great show and it can only serve everyone better if it moves to CNN. And we're thrilled."
The nature of Unfiltered's vigorous debate and often brutal opening monologue takedowns make CNN a natural home. But then, it just wouldn't be S.E. Cupp if the show didn't stand out from the pack, at least somewhat. Most notably, Unfiltered has shown itself to be practically allergic to the fiery, often chaotic panel debates that pepper the CNN lineup. Instead, there is a genuine search for answers. People who talk to each other rather than at each other.
The host wears this as a badge of pride.
"If you haven't been watching my show, I think what you'll notice, is smart and civil conversation on the news of the day," Cupp said. She added, "A respectful tone. A curious tone."
As Cupp sees it, her show offers a refreshing alternative to the noise heard on so much of cable news these days.
"There's a lot of places people can go for that," she told Mediaite. "And rather than try to out outrage, I'm kind of an escape from that. I don't invite people on my show, just to embarrass them. If you're invited on my show, I might disagree with you vehemently, but I want people to hear your opinion. It's because I respect it, and because I think it's worth hearing."
Cupp has provided a wide variety of perspectives in the first year of Unfiltered. Notably, in what is arguably her signature broadcast to date, Cupp moderated an all-female panel in which each participant — including the host — shared their MeToo experiences.
"I had some colleagues on who, for the first time, told some of their stories publicly," she said. "Including me. And that was an honor. That was a privilege to be able to share those stories, and then to track MeToo as a movement and as a story and really highlight that. That was really an honor."
MeToo has a great deal of Cupp's attention at the moment because she believes that the president, in advance of the midterm elections, plans to make it a target.
"Donald Trump's next war is going to be on MeToo," she said. "Discrediting MeToo. And you saw it a little in that rally where he talked about [Sen.] Elizabeth Warren (D-MA) and having to, because of MeToo, having to gently toss the DNA kit to her, because everyone's sensitive now. I think he's going to come for MeToo."
Moreover, the CNN host believes the president's anti-MeToo arguments will find their mark.
"Unfortunately, I think he's going to be successful, because I don't think MeToo is ready for the Trump treatment that it will get in between the midterms and 2020."
And if that's the case, and Donald Trump manages to put a dent in the MeToo movement, then S.E. Cupp will again find herself a lonely crusader within her party. A rare voice on the right speaking out against a president she finds toxic.
Really, though, she wouldn't have it any other way.
"It's an opportunity," she said. "I feel sort of empowered in this role. It's always nice to be surrounded by people who see the world the way you do. That's nice. It's comfortable…But it's really empowering to go it alone."
[photo via CNN/Jeremy Freeman]
——
Joe DePaolo is a Senior Editor for Mediaite.
Have a tip we should know? tips@mediaite.com
Joe DePaolo - Senior Editor