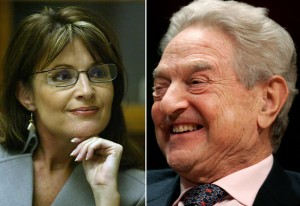 Yesterday, Glenn Beck finished his week-long exposé on billionaire George Soros. Calling him the "Puppet Master," the majority of Beck's attacks revolved around following Soros' money and listing the enormous amount of organizations that are seemingly in the man's pocket while theorizing what Soros could be using them for in his goal to bring about a one world government. However, Justin Elliott over at Salon has tugged on one of the puppet strings that Beck left out and has found someone unexpected at the end: Randy Scheunemann, Republican lobbyist and Sarah Palin's foreign policy adviser.
From Salon:
"He runs a Washington, D.C., consulting firm called Orion Strategies. Scheunemann and a partner have since 2003 been paid over $150,000 by one of Soros' organizations for lobbying work, according to federal disclosure forms reviewed by Salon. The lobbying, which has continued to the present, centers on legislation involving sanctions and democracy promotion in Burma.

Scheunemann's client is the Open Society Policy Center, a DC-based advocacy group founded and funded by Soros. The Open Society Policy Center says on its website that it 'encourages Congress and the Administration to press the military dictatorship in Burma to restore political rights and democracy.'"
So, what does this do to Beck's argument? Most likely very little. True believers will be able to shrug it off by pointing out the difference between the amount Scheunemann received and, say, the recent Soros donation to Media Matters. At the very least though, this should be proof that not every single person or organization that ever held a check with Soros' name on it is actually some part of a giant, scary shadow group plotting to take over the world. Of course, at the very most, some could interpret this as proof that the conspiracy is much bigger than Beck ever dreamed!
Either way, this news is a bit of the dent in the scenario that Beck has been illustrating for his audience; that Soros is a "spooky" man who is using his money to fund nothing but people who are out to get YOU and ruin YOUR life!
Check out the Salon article with more on Scheunemann's relationships with both Palin and Soros here.
Have a tip we should know? tips@mediaite.com