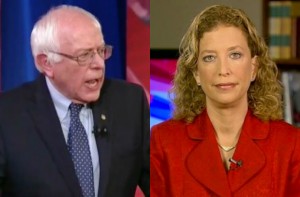 In a letter to Debbie Wasserman Schultz, Sen. Bernie Sanders expressed his disappointment that the DNC chair appointed to standing committees only three of the 40 people submitted for consideration by the Sanders campaign.
Sanders writes that this "sends the very real message that the Democratic Party is not open to the millions of new people that our campaign has brought into the political process, does not want to hear new voices, and is unwilling to respect the broader base of people that this party needs to win over in November and beyond."
"Fairness, inclusion and transparency should be the standard under which we operate," he adds.
He accuses Schultz of stacking the Rules Committee densely with supporters and surrogates for Hillary Clinton, suggesting that the committees were "established in an overtly partisan way meant to exclude the input of the voters who have supported my candidacy."
Sanders notes that his campaign has won "45% of the pledged delegates awarded. Frankly, we believe that percentage will go up in the coming weeks and, of course, we hope it will end up being a majority."
The tone of the letter is unmistakeably confrontational as Sanders pledges to bring the fight to the convention floor if he and his supporters feel their voice is being silenced.
"If the process is set up to produce an unfair, one-sided result, we are prepared to mobilize our delegates to force as many votes as necessary to amend the platform and rules on the floor of the convention," he concludes.
UPDATE — 2:50 p.m. ET: Politico reported that the DNC issued a response to the Sanders letter.
"Because the Party's platform is a statement of our values, the DNC is committed to an open, inclusive and representative process," the DNC said in a statement. "Both of our campaigns will be represented on the Drafting Committee, and just as we did in 2008 and 2012, the public will have opportunities to participate"
—
Sam Reisman (@thericeman) is a staff editor at Mediaite.
Have a tip we should know? tips@mediaite.com