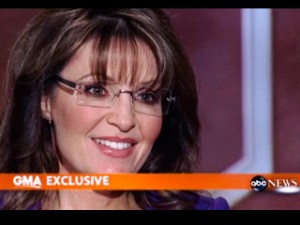 Tomorrow morning on Good Morning America, Co-Anchor Robin Roberts airs her visit to Alaska, where she spent a day-in-the-life of Sarah Palin and interviewed Palin about her new book and current political issues. Such exclusive access is normally reserved for FOX News host Greta van Susteren. Although recently branching out beyond the FOX News comfort zone has become a regular occurrence for Palin, with interviews granted to The New York Times, Time, and Barbara Walters. As Palin embraces mainstream media outlets, is the benefit of exposure to new audiences worth the tradeoff of losing credibility when she rails against unfair coverage from the "lamestream" media?
With Walters now naming Palin a "Most Fascinating Person" for three years in a row and with many more mainstream media outlets treating Palin as a credible, potential presidential candidate, it seems Palin's media enemies list is limited to just arch-nemesis Katie Couric and the writers at Vanity Fair (although it's probably safe to assume Palin does not have too many friends on MSNBC's primetime lineup either).
Avoiding and complaining about the "liberal mainstream media" is always a great rallying cry for the conservative right, but Palin has made a shrewd and accurate calculation that she openly admitted on FOX News recently. Defending her TLC reality show, Palin said "we need to get out there and reach people who are so independent that perhaps they would never think to tune into Fox News." Those independents are crucial for any presidential aspirations, and allowing the "lamestream" media into her home, in the guise of Roberts, is the clearest evidence yet that those aspirations are indeed sincere.
Have a tip we should know? tips@mediaite.com