Sarah Palin Releases Presidents Day Video: Preparing For A Brokered Convention?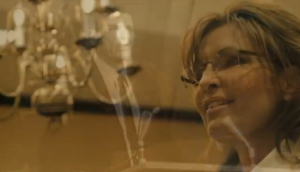 In honor of Presidents Day, Sarah Palin released a new video on her political action committee's website, SarahPAC.com. The move has some asking: is Palin preparing for a brokered convention?
Entitled "Chords of Memory," the video calls for restoring America — set against the visual backdrop of presidential monuments and Palin herself. Palin begins by saying:
We stand today at the symbolic crossroads of our nation's history, and all around us are monuments to those who have sustained us over the years in word or deed, the towering presence of the great emancipator who secured our union at the moment of its most perilous time…
RELATED: Sarah Palin To Eric Bolling: 'I'm Game' To Run For Office, 'All Bets Are Off' In A Brokered Convention
In the accompanying statement on the website, she writes:
It is refreshing to reflect on one who was so far removed in spirit from the inside baseball that too often defines politics now. America celebrates President Washington for his decision to serve for the right reasons. Today, we could certainly use a little more Washington in DC and a little less BS in Washington.
Just last week, Palin told Fox Business' Eric Bolling that in the case of a brokered convention "all bets are off." Saying she'd do whatever necessary to help America, she added if that meant "running for office at some point in the future, I'm game."
Of course, the Republican primary race still has a long way to go. Start placing your bets.
Watch the video, via SarahPAC.com:

Have a tip we should know? tips@mediaite.com