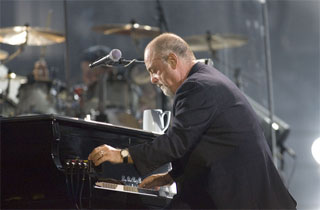 If this source told The Hill the truth, President Barack Obama aided and abetted Billy Joel in breaking his commitment to stop smoking. Which means Obama also secretly smoked. Scandal!!!!1
As this mystery tipster told In The Know, he had a conversation with the singer, who told him that href="http://swampland.time.com/2014/01/24/john-boehner-likes-smoking-too-much-to-be-president/" target="_blank">notorious chain-smoker and House Speaker John Boehner (R-OH) had offered him cigarettes during a visit. "I said, 'No thanks, I quit,'" he recalled. (Joel was in town to receive the Library of Congress Gershwin Prize for Popular Song.)
Then Joel allegedly related another DC smoking story:
According to our tipster, the 65-year-old entertainer said, "I was at the White House recently, and President Obama did the same thing. He said, 'I'm going out on the North Portico to have a smoke. Do you want to come with me?"

Joel said he replied, "Well, I haven't smoked in a long time," but indicated that he ultimately couldn't turn down a cigarette offer from the president.
If true, this is only a big deal because Obama has sworn he's been cigarette-free, either for six years or four years, and that he was scared that his wife Michelle would find out.
Joel flatly denied the rumors to the New York Daily News, saying that the part about Obama offering him cigarettes was totally untrue. "Nothing like that ever happened. I think their 'spy' had a few too many cocktails at that bar," he added.
[The Hill]
[Image via Anthony Correia / Shutterstock.com]
—
>> Follow Tina Nguyen (@Tina_Nguyen) on Twitter
Have a tip we should know? tips@mediaite.com