Scarborough: Democrats' 'Demise' Will Continue If They Blame Everyone But Themselves for Loss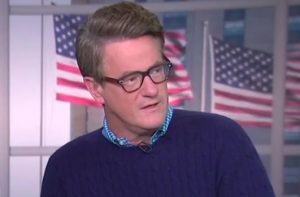 Joe Scarborough is among the many people in the media who thinks the Democrats need to look inward and stop blaming their election loss on everything else.
And it's not just 2016 that should give Democrats pause. As Scarborough writes in a new Washington Post column, "Barack Obama followed his landslide victory in 2008 with the worst run for any party in control of the White House since Herbert Hoover's GOP was swept aside by Franklin Roosevelt."
So while Democrats can point to things like James Comey and Russia in discussing Clinton's loss, it's "more difficult" for them to explain the "nationwide collapse" of the their party that culminated in the 2016 results.
"The truth," he writes, "is that Democrats have lost middle America."
And Scarborough is also on board with the argument that Democratic leaders are just, well, too old:
The impact of those setbacks becomes painfully apparent when you look at the aging politicians in their 70s fighting to lead their party into the future. Nancy Pelosi is 76. Bernie Sanders is 75. Joe Biden is 74. The vice president is eyeing a run for the top spot when he is 78. He would likely have to run against Elizabeth Warren, who would be 71 in 2020. Looking to the states for younger leadership will prove frustrating when Democrats control only 18 of 50 governors' mansions.
He concludes, "The Democratic Party's demise will continue until it stops blaming others for its collapse, and instead looks inward at a party that not so long ago defined hope and change."
[image via screengrab]
— —
Follow Josh Feldman on Twitter: @feldmaniac
Have a tip we should know? tips@mediaite.com
Josh Feldman - Senior Editor