Scottie Nell Hughes: Trump is Going to Make Someone Pay for 'Smears' on His Wife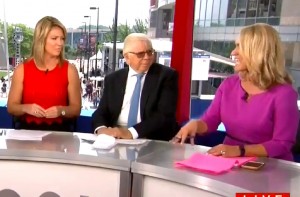 Trump supporter and paid CNN contributor Scottie Nell Hughes posited that the axe was still going to fall on someone for the media fracas that had sprung up around the resemblances between Melania Trump's speech Monday night and Michelle Obama's in 2008.
Speaking at a roundtable discussion following the the first day of the RNC in Cleveland, Hughes said that the attention lavished on Mrs. Trump's speech distracted from the "core conservative values" being espoused by the other speakers.
Trump's family and wife were being "smeared," Hughes said, by the reporting that her speech had been partially lifted from the First Lady's. "You haven't seen someone fired yet," she said. "Because I think somebody will pay for this. Mr. Trump is not going to let his wife be smeared publicly like this. No man."
"He is angry and I think he is trying to figure out the right person to hold accountable," she added.
Hughes is not alone in her assessment. Former Trump campaign manager and current CNN contributor Corey Lewandowski  said that Trump campaign staffers should be "held accountable" for the speech. RNC Chair Reince Preibus said he would probably fire the people responsible.
But the attention lavished on the speech was further evidence that the campaign was going to "steal the narrative no matter what every single day," Hughes said. "Once again top to bottom every news network we're talking about Donald Trump. So in the end this is another example of how he won the primary, and it's continuing on."
Have a tip we should know? tips@mediaite.com