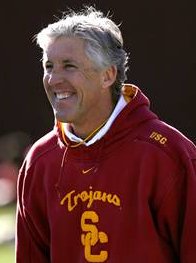 The Washington Redskins and Seattle Seahawks are among the NFL's happiest teams right now – they both fired their coaches (Jim Zorn and Jim Mora Jr.) and replaced them with the guys they really wanted (Mike Shanahan, formerly of the Denver Broncos, and USC's Pete Carroll [pictured], respectively). But some prominent voices aren't so satisfied with the way the searches played out.
These complaints assert that no minority candidates got a fair shot at the jobs, despite the teams' mandatory compliance with the league's "Rooney Rule" (named after Pittsburgh Steelers owner/U.S. ambassador to Ireland Dan Rooney). The Rooney Rule says that whenever a team hires a head coach, it must interview at least one minority candidate. Though both teams technically complied, a closer look explains the scrutiny.
The Redskins' interest in Shanahan was common knowledge well before Zorn was even fired, and certainly before they conducted their Rooney-Rule-complying interview with assistant Jerry Gray. To be fair, Gray said he didn't have a problem with this. John Feinstein of the Washington Post was another matter.
In a similar case, the Seahawks were rumored to have all but locked up Carroll as early as Friday, when ESPN's Chris Mortensen reported and tweeted as much. Their Rooney-Rule-complying interview, with Minnesota Vikings defensive coordinator Leslie Frazier, didn't take place until a day later. This led Sports Illustrated NFL writer Peter King to call the Frazier interview a "sham" on NBC, and reiterate the sentiment (with Twitter backing) in his latest column. Ex-Colts coach and current NBC analyst Tony Dungy, whose name caries as much weight in the coaching world as anyone's, also expressed his displeasure with Seattle's process.
The Rooney Rule has admirable goals, especially in a league where only six of 32 head coaches aren't white (seven if the Buffalo Bills, currently looking for a coach, hire Frazier, which they're apparently leaning toward doing). However, cases such as the Redskins' and Seahawks' sure make the Rooney Rule look like this Calvin and Hobbes strip – with no NFL equivalent of Calvin's mom to lay down the law.
Sure, there's the possibility that, say, Gray could have blown everyone away in his interview and landed the job (showcasing the positive aspects of the rule), but the fact is the Redskins (and Seahawks) already made up their minds when these interviews took place. They wanted big names (which Shanahan and Carroll are), and to have any chance, Gray and Frazier would have had to be involved in the search much earlier. The NFL will have to change the way coaching searches are conducted to truly level the playing field, and if they take much more heat this offseason, maybe it will happen.
Have a tip we should know? tips@mediaite.com