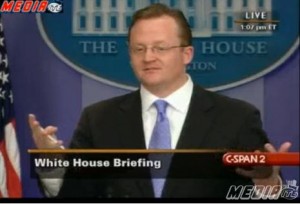 Even though the release of Game Change has made it seem like a relic, it was only Friday when former New York Mayor Rudy Giuliani stated that there had been "no domestic attacks under Bush."
Robert Gibbs responded with a dose of reality, but he hadn't had a chance to react to Rudy's later clarification (through a spokesman). I asked Gibbs about it yesterday, and he just seemed glad that Giuliani had cleared up the most glaring omission.
Even though Rudy's clarification contained more qualifications that "Fizzbin According to Hoyle," he still managed to ignore a host of examples, many of which were tweeted out immediately by Jake Tapper, then augmented by Rachel Maddow. Gibbs was less interested in getting into those weeds, and more anxious to point out the stunning nature of Giuliani's original gaffe:
Transcript:
Tommy Christopher: On Friday you addressed Rudy Giuliani's comments that there were no domestic attacks under Bush. And since then he revised his statement to say that he meant to say no domestic attacks on American soil by Islamic terrorists since 9/11.
MR. GIBBS: I think that's accurate.

Tommy Christopher Okay. And my second question —

MR. GIBBS: I mean, you know —

Tommy Christopher: Okay. That was fast.

MR. GIBBS: Well, no, no, I mean, I think what was missing was —

Tommy Christopher: Well, I mean — right.

MR. GIBBS: What was missing from —

Tommy Christopher: Jake pointed out several examples, though, that don't fit that, so I wanted to see —

MR. GIBBS: Well, I would say this. I haven't — I can go through the — look at vast numbers of examples. My point was that the mayor of New York had forgotten about an attack that happened in New York during that administration, and I was caught off guard by that fact, as I think anybody that might have been watching was sort of caught off guard by what he was saying and what he meant to say.

Tommy Christopher: Are you satisfied with the clarification in that —

MR. GIBBS: I'd have to look at what other instances he's — again, my point of contention was September 11th, which I thought it was weird that he'd forgotten.
Have a tip we should know? tips@mediaite.com