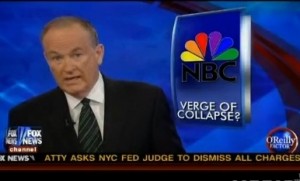 There is no love lost between NBC and Fox News, best evidenced by the following clip of Bill O'Reilly and guest Bernie Goldberg taking great joy in the recent late night programming decisions at NBC involving Jay Leno and Conan O'Brien. Not only do they take repeated shots at NBC Chief Jeff Zucker, but they make the worst insult of all – they compare him to, gasp, Barack Obama!


The battles between Fox News and NBC are typically waged by loyal Commanders Olbermann and O'Reilly, who not only relish pointing out factual inconsistencies and hypocrisies expressed by one another, but thrive in doing so. In fact, many times it seems that prime time programming at MSNBC solely exists to point out perceived absurdities at FNC. Likewise Fox News opinion shows love to beat up on NBC, and their (soon-to-be-former) parent company GE. Every hero needs a villain.
But while its not uncommon for attacks to become ad hominem, it's not often that any media professional gets as much ridicule as NBC chief Jeff Zucker does in the following clip. Not only do O'Reilly and Goldberg agree that it's unlikely for Zucker to last more than year left in his spot — which is certainly a possibility given the pending sale of NBC to Comcast — the two FNC men posit that the entire network of NBC is nearing complete and total collapse. Of course this is likely a hyperbolic phrasing that raises the stakes of Zucker's perceived failures by the two, and the schaudenfreude they (and their viewers) can experience as well.
Have a tip we should know? tips@mediaite.com