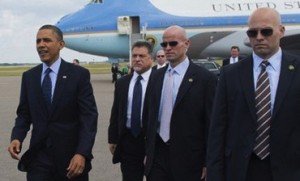 Secret Service agent Rafael Prieto committed suicide last week amidst an investigation into his extramarital relationship with a Mexican woman. The relationship was brought to light by one agent in the middle of the agency's continuing investigation into the Secret Service prostitution scandal earlier this year, and Prieto himself confirmed to investigators that the affair was ongoing for a number of years. Prieto was found last week in his car with the engine running.
According to the Associated Press, Prieto served on President Obama's protective detail, but was not on duty when he killed himself. He worked in the Secret Service for over two decades. D.C. police and the medical examiner's office is currently investigating his death, which is now being considered due to carbon monoxide poisoning.
As for the details of Prieto's affair, a number of individuals spoke anonymously to the AP because no one was authorized to speak publicly about it, and provided details about the investigation and Prieto's affair.
[He] had acknowledged to U.S. investigators that he had been having an affair for years with a woman from Mexico… Prieto's relationship was revealed to Secret Service investigators by an agent who had been entangled in the Colombian prostitution scandal earlier this year, these people say. That agent was concerned that the Secret Service wasn't enforcing its rules consistently.

Secret Service rules require that employees with a security clearance notify the agency about any relationship with a foreign citizen to ensure that the person is not a risk to national security. There is no evidence that Prieto's relationship posed any security threat. Failing to disclose such a relationship would be a violation of the agency's administrative rules, not a crime.
The Secret Service is currently continuing its investigation into the scandal involving a number of agents who hired prostitutes in Colombia while on duty for the president.
[Image via]
Have a tip we should know? tips@mediaite.com
Josh Feldman - Senior Editor