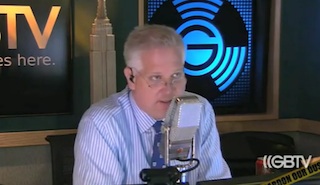 Well, no one thought this would be easy. Today on his radio show, Glenn Beck announced that he's been forced to move his upcoming Restoring Courage rally to a different part of Israel due to "security concerns." Explaining how serious the situation was and how seriously he and his extensive security team were taking it, Beck described how, before his rally in Washington DC last year, he worried that any incident would cause a "civil war" in the country. If something went wrong this time, however, Beck cautioned it would cause "World War III."
The rally was set to take place at the Southern Wall at the Temple Mount but will now be moved. Beck said that he had been hoping for "a different outcome" since the location, he believes, was one that was "selected" for him by a higher power. However, with the Middle East being as "volatile" as it is, with 40,000 Muslims attending the area for Ramadan, with concern over some of the guests to who event (including some that haven't yet been announced, and with his team warning that they "play for keeps" in the region, he has been forced to make the tough call.
"We have been asked if we would move the site. I concur, because courage must be coupled with wisdom, and the last thing we want to happen is for anyone to be injured in any way, or there to be any kind of conflict."
Despite the setback, Beck promised the rally would still be a "very strong program" that guests would remember as a "turning point in their lives." The new location will be announced soon.
(UPDATE: An earlier version of this post incorrectly identified the 40,000 Muslim number as attending a "counter rally" which is inaccurate and a rather silly mistake that I'm a bit embarrassed about. Whoops)
Watch the clip from the Blaze below:
Have a tip we should know? tips@mediaite.com