Sen. Cruz's Father: Planned Parenthood Created as 'Population Control' for Blacks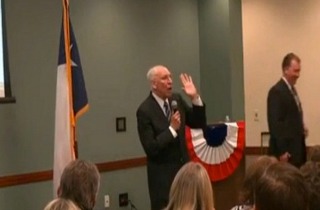 A video of Rafael Cruz, father of Sen. Ted Cruz (R-TX), began making its way around the Internet Tuesday because it contains some controversial remarks by the outspoken elder Cruz.
But the controversial ones aren't the ones being passed around by several media outlets.
In the video, reportedly recorded at a meeting for conservatives in Cedar Park, Texas, Cruz tells his audience that most black Americans have been hoodwinked into becoming Democratic voters. The lines getting most of the attention are the ones where Cruz, whose first language is clearly not English, says blacks "need to be educated" on what he says are the negative impacts of the minimum wage.
BuzzFeed, RawStory, The New Republic, and Talking Points Memo all highlighted those remarks in the same way, despite the comments not actually being controversial in the context of a conversation about minority outreach. That many conservatives don't support the minimum wage and would like to win over blacks isn't the news some made it out to be.
The real doozy of the Cruz video is the part where he says the purpose of Planned Parenthood — a non-profit that provides reproductive services for women, including information on abortion — is population control for blacks.
"Margaret Sanger was the founder of Planned Parenthood," Cruz says. "And you can Google it and look at her written statement. The purpose of creating Planned Parenthood was for population control in the black neighborhoods. Look at where all or most of the abortion clinics are: in the black neighborhoods to control the population."
That kind of Hitler talk is a little edgier than Cruz saying he hopes conservatives can "educate" (in more fluent English, read as: "convince") blacks that raising the minimum wage is bad policy.
Briefly: Sanger began the Negro Project in 1939, according to the Margaret Sangers Papers Project, a historical initiative sponsored by New York University. It was, by some accounts, intended to educate black communities on sex and birth control as to alleviate them from economic hardship.
Others, however, point to this line from a letter Sanger wrote regarding the project: "We do not want word to go out that we want to exterminate the Negro population and the [black] minister is the man who can straighten out that idea if it ever occurs to any of their more rebellious members."
Sounds suspect to Sanger critics (She also believed overpopulation of the Earth would be harmful to its natural resources, according to PBS). Others read it as a warning by Sanger that the intent of her project might be misunderstood. Nonetheless, we know Cruz's interpretation, which is far more dubious than his opinion on blacks and the minimum wage.
Watch:
[Image via screen grab]
— —
>> Follow Eddie Scarry (@escarry) on Twitter
Have a tip we should know? tips@mediaite.com